Recognizing those who demonstrate commitment and excellence in the enforcement of national and international wildlife protection laws
Now through August 15, 2022, AWI is accepting nominations for its
2022 Clark R. Bavin Wildlife Law Enforcement Awards.
Since 1997, the Animal Welfare Institute, in coordination with the Species Survival Network (SSN), has presented the Clark R. Bavin Wildlife Law Enforcement Award to those who have gone beyond the call of duty and demonstrated a commitment and dedication to combating wildlife crime. The award is given in honor of the late US Fish and Wildlife Service's Mr. Clark R. Bavin, who was a pioneer in wildlife law enforcement. His far-sightedness and willingness to use novel yet complex sting operations to catch wildlife smugglers was ahead of its time and a model for today's wildlife crime fighters.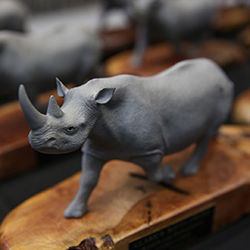 Wildlife crime is a global problem that requires a worldwide commitment to solve. From the acts of solitary poachers to well-financed and ruthless criminal syndicates, wildlife crime affects us all by harming biodiversity, threatening the lives of the brave men and women who combat such crime, and stealing our collective wildlife heritage from present and future generations. Today, wildlife criminals are not merely those who pull the trigger, cast the net, set the snare, or deliver the poison, but also those who forge documents, engage in internet sales of protected wildlife, transport illicit products, and finance criminal operations.
Wildlife law enforcement officers—relatively few in number—are committed to enforcing national wildlife laws and international commitments such as the Convention on International Trade in Endangered Species of Wild Fauna and Flora (CITES), enacted to protect and preserve the world's biodiversity, particularly imperiled species and the habitats upon which they depend. Often unheralded, front-line officers routinely risk their lives to apprehend wildlife criminals. Scientists, administrators, attorneys, informants, judges, educators, forensic specialists, organizations, and others support these dedicated officers, and all are essential in combating wildlife crime. As the sophistication of wildlife criminal networks has grown, many countries have stepped up their efforts to combat this scourge.
The Clark R. Bavin Wildlife Law Enforcement Award—traditionally presented by the Secretary-General of CITES at the SSN reception at each meeting of the CITES Conference of the Parties (CoP)—has been bestowed upon law enforcement officers, prosecutors, national and international investigative teams, and nongovernmental organization representatives from nearly 30 countries.
AWI is now accepting nominees for the Clark R. Bavin Wildlife Law Enforcement Awards to be presented at the 19th meeting of the Conference of the Parties to CITES, held November 2022 in Panama City, Panama. If you have any questions about the award or the application process, please email bavinawards@awionline.org.