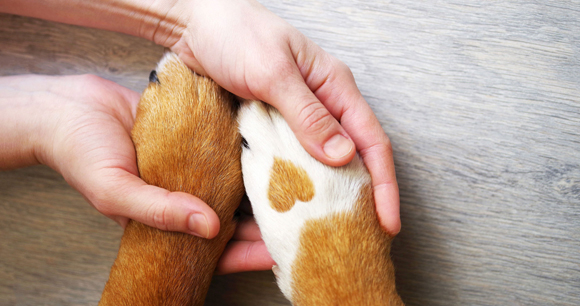 What are safe havens?
Safe havens are sheltering services available in an area that assist individuals experiencing domestic violence with placing their companion animals out of harm's way so that they may seek safety for themselves. The safe havens directory was established by AWI in 2011 to help people find these facilities.
Safe havens operate differently from community to community. Some rely on networks of foster care homes or are allowed to use the additional kennel space of a local humane society or veterinarian. In some cases, domestic violence shelters house victims and pets together, while some house only the pets on-site. They can be independent nonprofit organizations or formal partnerships between domestic violence agencies and animal agencies or groups. Depending on the local arrangement, family members may be able to visit their pets while they are in safekeeping. How long a pet may stay in a safe haven again will depend on the local arrangement—some stays are much shorter than others. Confidentiality of the pet's location is highly guarded in order to protect the pets and their family members.
Where are they?
Until AWI established the Safe Havens Mapping Project in 2011, there were only partial listings of safe havens for pets. The Safe Havens Mapping Project addressed this gap with the development of an integrated, comprehensive state-by-state listing of sheltering services for the animals of those experiencing domestic violence. The entities included in the listing, which is subject to ongoing refinement and updating, either provide sheltering services for the animals of domestic violence victims, have a relationship with an entity that does, or provide referrals to such facilities.
Funding for safe haven pet programs
AWI has been able to identify a limited number of funding sources for individuals who need a safe place for their companion animals, or for groups interested in providing a safe haven program in their area. There may be other sources of funding not listed here; if so, please contact AWI at safehavens@awionline.org so we can add that information to our list.
How can my community start one?
The manner in which safe havens for pets develop depends upon the capacity and best thinking of the local community. For a comprehensive review of how to start a safe haven for pets, please click here.
Submit a Safe Haven
Please join our efforts to provide an accurate directory of safe havens for pets. If you notice that we omitted a program that should be in our registry, or if you spot an error in any of the listings, contact AWI at safehavens@awionline.org and provide as much information as you can. Your help is integral in maintaining Safe Havens for Pets.
Can I include my pet(s) in a Temporary Restraining Order (TRO)?
Yes. Thirty-six states, the District of Columbia, and Puerto Rico have laws to ensure that survivors of domestic violence can include their pets in restraining orders. Even if your state does not have a specific provision, most state TROs contain language that gives courts discretion to permit additional orders. For example, a court can order that pets be included in a TRO, as they do for the temporary care of children or possession of property. Conditions bonds can also include pets. A TRO can authorize law enforcement to assist with the removal of a pet from the home.