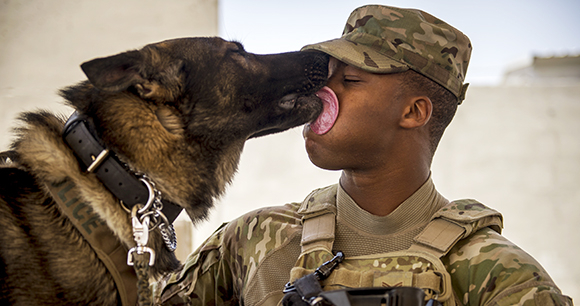 On January 2, 2013, President Obama signed into law the National Defense Authorization Act for FY2013 (HR 4310), which authorizes the Secretaries of the various military services to transfer back to Lackland Air Force Base or another location for adoption any Military Working Dog (MWD) who is to be retired and for whom "no suitable adoption is available at the military facility where the dog is located." This language is needed to ensure that the military returns MWDs to the US so that prospective adopters do not face that expense. The bill also authorizes the Secretary of Defense to create a program to provide veterinary care to adopted retired MWDs. Such a program will not involve federal funds. Representative Walter Jones, Jr. (R-NC) in the House and Senator Richard Blumenthal (D-CT) in the Senate sponsored the original legislation on which these new provisions are based.
When it was revealed that one member of the elite commando team that raided Osama bin Laden's compound had four legs and a tail, the contributions of Military Working Dogs (MWDs) were thrust into a new light. While the precise role of "Cairo" is not known, it could have been anything from catching someone trying to escape the compound to sniffing out explosives and booby traps. 
There have been many reports of the bravery of MWDs, the sacrifices they have made, the many lives they have saved, and even the suffering they have experienced from post-traumatic stress disorder. Some MWDs have served multiple tours of duty. The US Department of Defense reports that there are 2,700 MWDs in service within about 600 in war zones, and another 200 working through contractors. In 2010, MWD teams found at least 12,500 pounds of explosives, and probably more. It seems that everyone, from the dogs' handlers to top military brass, recognizes that MWDs are "not just a piece of equipment," but rather "heroes" and "true members of the military."
Except when the time came to discharge them. While MWDs are now eligible for adoption, they were entitled to no more consideration than equipment when it came to returning them to a home base. Thus, if placement was not possible in the country where the dog had been serving, then any potential adopter in the US had to pay the steep costs of transporting the dog stateside. Moreover, adopting families might have faced  hundreds or thousands of dollars in veterinary care for problems related to their dogs' military service.
To rectify this inequity, Rep. Walter B. Jones, Jr. (R-NC) and Sen. Richard Blumenthal (D-CT) introduced the Canine Members of the Armed Forces Act (HR 4103 and S. 2134). This legislation (1) specified that MWDs are not to be considered as "equipment" and reclassifies them as canine members of the armed forces; (2) authorized the Secretary of the appropriate military service to transport any MWD back to the 341st Training Squadron or elsewhere for adoption; (3) authorized the Secretary of Defense to accept travel premiums (such as frequent flyer miles) to facilitate the adoption of an MWD; (4) authorized the Defense Secretary to contract with a private nonprofit entity to operate a system for providing veterinary care to adopted MWDs (no federal funds were to be used to maintain the system or provide veterinary care); and (5) directed the Defense Secretary to create some form of recognition for MWDs killed in action or for exceptional service.
The simple provisions of this bill acknowledged in a concrete way the service and sacrifice of these valuable and valued members of the military by recognizing them as true members of the armed services and by facilitating their adoption and access to appropriate veterinary care upon retirement.
As noted above, two important provisions of this legislation, regarding relocation upon retirement and veterinary care, were included in the National Defense Authorization Act for FY 2013.