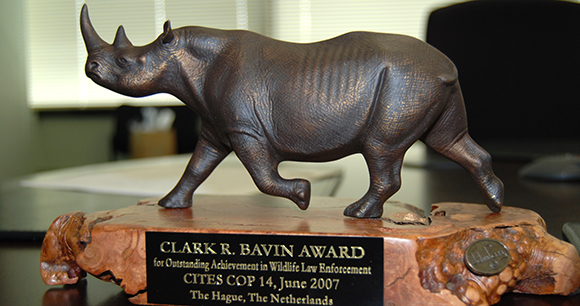 The 2007 Clark R. Bavin Law Enforcement Award recipients are as follows:
 
Mr. Samson Parsimei Ole Sisina, Kenya Wildlife Service, Kenya (awarded posthumously)
Mr. Samson Parsimei Ole Sisina joined Kenya's Wildlife Conservation and Management Department the predecessor of the Kenya Wildlife Service in 1979. After undergoing paramilitary training, he received the rank of ranger in 1990 and ranger/driver in January 1999, providing exemplary service in a number of stations, including Narok, Kajiado, Tsavo West National Park, Meru National Park and Hell's Gate National Park. Tragically, he lost his life on April 19, 2005 while engaged in an undercover investigation of an illegal game meat operation at Soysambu Ranch in Naivasha, Kenya. A native Masai, Mr. Sisina had elected to leave the traditional rural life of his people in order to pursue a job working for the Kenya Wildlife Service, and he wanted nothing more than a strong education for his eight children. In honor of his career fighting wildlife crime with diligence, professionalism, trust and integrity, and in remembrance of his ultimate sacrifice in protecting the wildlife of Kenya, Mr. Sisina is presented with a 2007 Clark R. Bavin Wildlife Law Enforcement Award posthumously.
Mr. Paul Cerniglia, Supervisory Wildlife Inspector, US Fish and Wildlife Service, United States of America
Mr. Paul Cerniglia is a supervisory wildlife inspector with the US Fish and Wildlife Service Office of Law Enforcement. Since 1982, he has been a mainstay of CITES enforcement through his work at John F. Kennedy International Airport and the Port of New York the largest US port of entry for wildlife trade and one of the busiest ports in the world. His accomplishments include shutting down the New York black market for psittacine birds, assisting in landmark cases involving trafficking in live caimans and caiman skins, expanding the port's CITES compliance efforts, enforcing CITES protections for sturgeon by both ensuring rigorous inspection of caviar shipments, and developing leads that exposed most of the major US caviar companies as black market profiteers. He has also brought the issue of humane wildlife transport conditions to the forefront resulting in improved industry standards and reduced wildlife mortality. On his own initiative, he developed a rigorous hands-on training program for new inspectors at the Port of New York that has become a model for service port operations nationwide. For his investigative expertise, commitment to upholding wildlife laws, and exemplary efforts in training other officers, Mr. Cerniglia is presented with a 2007 Clark R. Bavin Wildlife Law Enforcement Award.
Rajasthan Police Department, India
On the evening of February 3, 2006, a team of police officers of the Special Operation Group from the Rajasthan Police Department seized 34 freshly tanned leopard skins and 4 otter skins in Delhi after a well planned operation spread over a number of states and made two arrests. One of the criminals was an important member of an organized ring of poachers who had been responsible for the repeated smuggling of tiger, leopard and otter skins into Tibet. Both before and after this significant seizure of wildlife products, the Rajasthan Police Department has demonstrated its commitment to enforcing wildlife protection laws in India. According to a partial compilation of investigations conducted since January 2003, the Rajasthan police have seized animal skins, claws, paws, bones and ivory, and have arrested nearly three dozen criminals - including India's most notorious wildlife criminal. It has succeeded in breaking up entire wildlife criminal networks from the poachers, suppliers, middlemen, and those receiving the wildlife products within India. For its effort to combat wildlife crimes in India, the Rajasthan Police Department is awarded a 2007 Clark R. Bavin Wildlife Law Enforcement Award.
Mr. Yvan Lafleur, Canadian Wildlife Service, Canada
Mr. Yvan Lafleur has been dedicated to the protection of Canadian and international wildlife and its responsible management throughout his over 41 years of involvement in the field of wildlife law enforcement. After serving as Chief Warden at several national parks in Canada, he became the Chief of Wildlife Enforcement for the Canadian Wildlife Service in 1989. During his tenure, the unit's mandate was expanded to include endangered species protection and the implementation and enforcement of CITES. Mr. Lafleur's efforts have significantly contributed to the creation or operations of the North American Wildlife Enforcement Working Group, the Enforcement Table of the Trilateral Committee for the protection of the Ecosystems, the Canadian Natural Resources Law Enforcement Chiefs, the Interpol Wildlife Group, and several projects of the World Customs Organization. He also assisted with wildlife enforcement, training and capacity building projects in a number of countries, initiated and participated in the development of wildlife identification guides (that have now been translated into many languages), and was an active member of the Technical Tiger Mission. Though he retired from the Canadian Wildlife Service in April 2006, he continues to serve as an enforcement representative at the CITES CoP a role he has assumed at each CoP since 1994. Based on his experience, Mr. Lafleur is deeply concerned about the division among non-governmental organizations regarding the conservation of wildlife and strongly encourages more sharing of information, coordination and discussion between NGOs and wildlife agencies that have differing visions of wildlife conservation. For his exemplary efforts during his career in wildlife law enforcement, Mr. Lafleur is presented with a 2007 Clark R. Bavin Wildlife Law Enforcement Award.
The Last Great Ape Organization, Cameroon
The Last Great Ape Organization (LAGA) is a field-based organization that was founded in 2002 to effectively enforce effectively local wildlife laws critical to the survival of threatened animals. In 2003, the Cameroonian Ministry of the Environment and Forestry entered into collaboration with LAGA to create a successful model to deter wildlife crime. As a result, LAGA is the first specialized law enforcement NGO in Cameroon to provide investigatory, operational, legal assistance, public education and media services, helping the country's government combat illegal wildlife crimes. Since the inception of this pilot project, there has been remarkable progress in improving wildlife law enforcement efforts in Cameroon. LAGA has initiated 218 investigations, carried out 16 operations resulting in 52 court cases, achieved an average imprisonment rate of 85 percent, and educated the legal establishment and public about the seriousness of wildlife crime through the publication of nearly 400 media stories since April 2005. During this period, LAGA has confiscated and re-homed eight chimpanzees, exposed the international ivory trade between several West African countries and the Far East, and investigated the illegal trade in lion skins and live apes. For its efforts to combat wildlife crime, LAGA is presented with a 2007 Clark R. Bavin Wildlife Law Enforcement Award.
Mr. John T. Webb, Attorney, US Department of Justice and Tourism, Wildlife Division, Environment and Natural Resources Division, United States of America
Mr. John Webb has strengthened CITES enforcement in the United States and contributed to increased global protections for wildlife during his over 20 years of service with the Environment and Natural Resources Division of the US Department of Justice. As a prosecutor, he has taken on the global black market trade in CITES-listed species, securing numerous convictions of individuals and companies. His efforts have raised the profile of wildlife crime in the United States, resulting in more severe charges and penalties levied against the perpetrators of such crimes. Mr. Webb and his team of attorneys have secured significant fines and prison sentences for criminals engaged in organized networks illegally trading in CITES-protected birds and reptiles, and his efforts have exposed the kingpins of the lucrative black market caviar trade. He pioneered the use of extradition in wildlife prosecutions, introduced DNA evidence for the prosecution of wildlife crimes, and has found novel ways to apply US federal law to such crimes thereby increasing the penalties. Mr. Webb is recognized both domestically and internationally as the pre-eminent expert on US wildlife law and CITES enforcement, and he has shared this expertise as a lecturer and instructor for international training programs in Mexico, Madagascar, India, Argentina, Belgium, Thailand, Brazil, Columbia and Canada. For these exemplary efforts, Mr. Webb is presented with a 2007 Clark R. Bavin Wildlife Law Enforcement Award.
Mr. Paulin Ngobobo, Chief Warden, Congolese Institute for the Conservation of Nature, Democratic Republic of the Congo
As the chief warden of the Congolese Institute for the Conservation of Nature, Mr. Paulin Ngobobo is directly responsible for the protection of the last and largest remaining populations of mountain gorillas in the southern portion of the Democratic Republic of the Congo's Virunga National Park. He has led many anti-poaching patrols into mountain gorilla habitat, come under fire from poachers, and been imprisoned and whipped for challenging the role of the Congolese military in the illegal production of charcoal. Earlier this year, he played a key role in meeting with representatives of a Congolese rebel force to explain the importance of mountain gorilla conservation and its responsibility to protect these animals. His efforts are succeeding, as evidenced by the increasing gorilla populations in portions of the park. Mr. Ngobobo is also a teacher at the Institute for Engineering and Developmental Environmental Management, and he frequently speaks to student and community groups about mountain gorillas and their protection and works with indigenous pygmies to ensure the survival of these magnificent animals. For his dedication to the protection of Virunga National Park's mountain gorillas and his efforts to educate others about the importance of preserving this species, Mr. Ngobobo is presented with a 2007 Clark R. Bavin Wildlife Law Enforcement Award.
Mr. Emmanuel Juma Muyengi, Ministry of Natural Resources, United Republic of Tanzania (awarded posthumously)
In April 2006, Mr. Emmanuel Muyengi, a wildlife officer working for the Wildlife Division of the Ministry of Natural Resources and Tourism in the United Republic of Tanzania, led a raid on poachers who had killed at least one elephant, eight zebras, and a wildebeest. During the ensuring melee, Mr. Muyengi was shot in the leg yet, despite the pain, he was able to fire at the poachers' vehicle's front tires before collapsing into unconsciousness. Tragically, he died hours later as a result of his wound. A graduate of Sokoine University and the College of Wildlife Management in Mweka, Mr. Muyengi was confirmed as a game officer in 2004. He was a frequent collaborator with the African Wildlife Foundation on conservation projects in the Simanjaro District which provides important habitat for elephants and other wildlife in northern Tanzania. Mr. Muyengi former colleagues describe him as a dedicated wildlife officer who always defended and believed in wildlife conservation ethics and expressed hope that his commitment to wildlife protection will be emulated by other wildlife officers in Tanzania and the world at large. For his dedication in combating wildlife crime and in honor of his sacrifice in the line of duty, Mr. Muyengi is presented with a 2007 Clark R. Bavin Wildlife Law Enforcement Award posthumously.