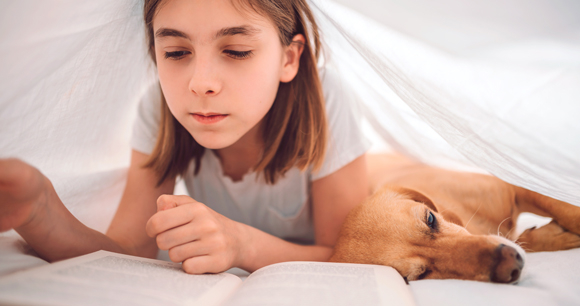 Free Publications for Teachers
Looking for fun educational resources? The Animal Welfare Institute is offering free to teachers of young school children three colorful, heartwarming children's books: Kamie Cat's Terrible Night chronicles the misadventures of a lost cat. Pablo Puppy's Search for the Perfect Person is a story about a puppy and an older dog living in a shelter. The Boy Who Loved All Living Things is a tale inspired by real events from the childhood of Nobel Prize winner Dr. Albert Schweitzer. Together, these three books—created especially for AWI by award-winning author and illustrator, Sheila Hamanaka—will help instill in students an understanding of proper pet care and the importance of compassion toward all living creatures. If you require additional copies, please contact AWI.
Teachers may also receive one free copy of A Dangerous Life, a graphic novel aimed at middle school–age readers, written and illustrated by Sheila Hamanaka with Lisa Barile, Rosalie Knox, and Julie Lien and published by AWI and the Kenya Wildlife Service. The story, set in Kenya, focuses on the true costs of the ivory trade and the importance of both animal and human families. Woven throughout are lessons of conservation and compassion for all living things. In collaboration with teacher Nancy Kellum Brown, AWI has produced a free classroom lesson plan for A Dangerous Life. The lesson plan includes activity cards and worksheets that can be used on their own or in conjunction with an interactive notebook. They are applicable across a variety of subjects, including science, environmental education, social studies, and language arts for grade 6 and up. If you require additional copies, please contact AWI.
For instructors teaching in high school and beyond, AWI offers The Magic of Touch, by Annie and Viktor Reinhardt. This book reviews the scientific and professional literature to present evidence on the calming, stress-buffering, and life-enhancing effect of touch among animals, among humans, and between animals and humans. AWI has collaborated with Nancy Kellum Brown to produce a lesson plan for The Magic of Touch that is appropriate for courses involving animal behavior, ethology, environmental studies, and philosophy. If you require additional copies, please contact AWI.
Free Publications for Libraries and Animal Shelters
AWI is also pleased to offer one free copy of each of our publications to libraries and animal shelters. If your library or animal shelter is interested in bulk orders, please email donations@awionline.org or call 202-337-2332 with your request (please include best contact information, name and number of materials being requested, and intended use for materials). Visit our online store and follow the instructions below to place your order today.
To order your free educational publications
Please add the items to your cart by clicking on the "Add to Cart" button next to each publication. Once you have added all desired publications to your cart, continue to checkout. While at the checkout screen, scroll to the "Free Publications" window that is beneath the "Cart Contents" window and enter the name of your institution in the box provided, then select "Click to calculate discounts." The cost of all eligible products will then be reduced to zero. The availability of a complimentary copy is subject to verification of eligibility. If you have any questions or problems checking out, please contact us.