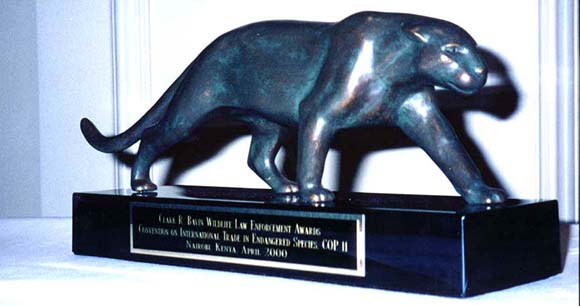 The 2000 Clark R. Bavin Law Enforcement Award recipients are as follows:
 
Mr. Frances Lesilau is an officer with the Meru National Park unit in Kenya and was responsible for an ivory seizure last year. Since December 24, 1999, his team has made six contacts with bandits and several arrests, recovered 8 weapons, killed three poachers and wounded two others. Lesilau and his colleagues risk their lives daily and their success on the front line has tremendously enhanced the stalwart work of the Kenya Wildlife Service (KWS).
Mr. Clement L. P. Mwale has served Zambia National Parks and Wildlife since he left school. For several years he was an investigating officer with Zambia Anti-Corruption Commission handling wildlife cases and in 1995 he was appointed Warden of Zambia's Investigations and Intelligence Unit (IIU). He has led over 400 successful investigations into illegal ivory trading, poaching and smuggling of rhino horn, wild birds, wildlife skins, bushmeat and reptiles. He has investigated all offenders impartially whether officials in his Department or other law enforcement agencies, or foreign safari hunters.
Dr. Diwakar Sharma has spent the last 20 years on control of illegal trade in wildlife in India. Because of his efforts, innumerable wild animals have survived, poaching has been substantially reduced and a large number of poachers, wildlife traders and international wildlife criminals have been arrested and their networks disbanded. In the course of this work he has regularly risked his life. The undercover work undertaken by him has resulted in the arrests of a number of poachers and traders and the recovery of smuggled ivory, 58 tiger skins, a large quantity of tiger bones, 112 leopard skins, and seven rhino horns.
Mrs. Jytte Ekdahl, a Danish Police Officer, was seconded to the Interpol General Secretariat in Lyon, France, where she works as a Specialized Officer. For the past three years, Mrs. Ekdahl has coordinated the activities of the Interpol Working Group on Wildlife Crime. She has also been a key participant in projects that have identified criminals trafficking in contraband wildlife and exposed their business relationships and networks. Her work at Interpol has assisted national law enforcement agencies with information needed to locate and arrest wildlife traffickers.
Mr. Chung-Shing Lee has been Head of Taiwan's Wildlife Protection Unit for more than 4 years, during which time 140 cases have been investigated. In one case, he traveled repeatedly to Vietnam to help authorities expose an illegal wildlife dealer. Mr. Lee helped rescue 5 bears in the process. Other arrests involved North American and European nationals who conspired to smuggle commercial quantities of reptiles into Taiwan, a dealer who attempted to bring a ton and a half of elephant ivory from West Africa into Taiwan, and dealers who were trafficking in rhinoceros horns.
Mr. Adan Ware Dullo heads the Lusaka Agreement Task Force. The Lusaka Agreement was signed in 1994 as a cooperative enforcement pact between six African nations. Mr. Dullo and his Task Force have participated in a number of stunning operations, identifying, cornering, and arresting several ivory dealers and seizing large quantities of contraband ivory. Mr. Dullo was a wildlife officer for 16 years with KWS before accepting his present position. He is best known for the 10 years he served as head of the KWS Intelligence Unit. During that period, he was responsible for numerous undercover operations that led to the arrest and conviction of many wildlife criminals.
Four awards were presented posthumously this year.
Mr. Soumen Biswas started the North-Eastern Society for Preservation of Nature and Wildlife (NESPON) in India in 1992. He methodically investigated the illegal trade in wildlife in coordination with the Wildlife Protection Society of India (WPSI). Risking his life on many occasions, he gathered invaluable information on the wildlife trade and helped bust several trade rackets. He kept up this work until the day of his death on October 19, 1997, when armed miscreants murdered him inside his office.
Also from India, Sanjay Deb Roy dedicated his life to the conservation of wildlife. He began his career as a Forest Officer in the State of Assam in 1956. Across Assam, forest staff have memories of being led by him through pitched gun-battles with poachers. He served as an advisor to the Environmental Investigation Agency's Tigers in Crisis campaign. EIA's Debbie Banks said of Roy: "His commitment and knowledge meant he never shied from conflict with the politicians and business interests that continue to take apart what remains of India's natural heritage." Deb Roy finally retired from service in 1992 and passed away in August 1999.
Posthumous awards also honored Chadian Park Ranger Mahamat Abakar and Park Ranger Mando who were ambushed and killed while engaged in an anti-poaching patrol in Zakouma National Park, in southeastern Chad, on the morning of December 3,1998. For many months preceding the incident there had been intense elephant poaching in the park and small ranger units conducted frequent anti-poaching patrols in an attempt to gain control of the situation. Mahamat was a veteran ranger, who protected wildlife in Zakouma during the Chadian civil war of 1975-1986; Mando, on the other hand, was cut down in his youth.