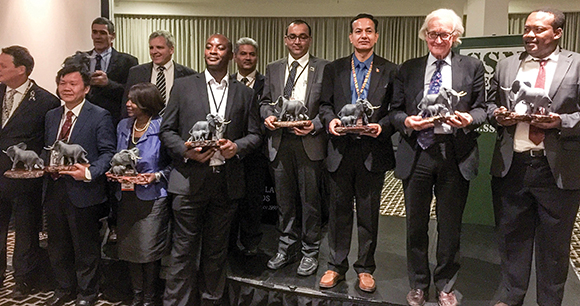 The 2016 Clark R. Bavin Law Enforcement Award recipients are as follows:
 
Chief Inspector Martin Sims, Head of the National Wildlife Crime Unit, United Kingdom
Chief Inspector Martin Sims, with 30 years of experience as a police officer, leads the 12-member National Wildlife Crime Unit (NWCU) in the United Kingdom. This unit, established in 2006 to combat illegal wildlife trafficking in the UK, has been described as one of the world's leading police units dedicated to supporting wildlife crime investigations through intelligence collection and analysis. The unit also helps other enforcement agencies expose wildlife crime, arrest suspects, and prosecute them in court. In 2015, the NWCU assisted in 70 percent of local wildlife crime investigations in the UK. Chief Inspector Sims played a leading role in the development of an Authorized Professional Practice guide to help police officers in the UK increase their effectiveness in combatting wildlife crime and he routinely works with non-governmental organizations that provide information related to wildlife criminal activities in the UK.
Mr. Ritesh Sarothiya, Assistant Conservator of Forests in the Madhya Pradesh State Forest Service, India
Mr. Ritesh Sarothiya is the assistant conservator of Forests in the Madhya Pradesh State Forest Service in India. Since 2009, he has led special investigations on sloth bear poaching and the bear bile trade, pangolin poaching and trade, and leopard poaching, as well as a strike force investigation of organized tiger poaching in Madhya Pradesh. He has arrested numerous suspects for wildlife crimes and has particularly excelled in combatting pangolin poaching, overseeing the arrest of 82 suspects from nine Indian states, including five foreign nationals who were being sought by Interpol. In addition to speaking to judges, judicial officers, and forensic experts about wildlife and illegal trade, Mr. Sarothiya trains others on GIS technology, forest management, ecology, and the use of modern technologies to combat wildlife crime.
Mr. Sun Lei, Deputy Director, Beijing Forest Police, China
Mr. Sun Lei is the deputy director of the Beijing Forest Police. Since 2012, he and his team have pursued 187 cases involving endangered wildlife, including elephants, rhinos, and sea turtles. The team has seized large quantities of illegal wildlife products, arrested over 400 suspects, and dismantled a number of criminal syndicates. Mr. Lei employs intelligence networks, surveillance and ambush tactics, controlled deliveries, and high-tech tools to increase operational efficacy. He has improved evidence collection techniques, strengthened cooperation within and among law enforcement agencies in China, and enhanced efforts to combat wildlife crime via the internet. Collaborative efforts with other agencies have led to the arrest of 86 suspects involved in 51 wildlife crime cases since 2014. In one case, 15 suspects were sentenced to more than 10 years in prison for crimes involving endangered species, shutting down a trans-regional ivory trading criminal syndicate. In addition to pursuing public and media outreach to share information about wildlife crime, Mr. Lei relies on case analysis to improve investigation techniques, and trains a future generation of wildlife law enforcement agents on CITES and domestic laws, species identification, investigation methods, and evidence and intelligence collection.
Mr. Rony Malka, Head, CITES Management Authority and Director, Division of Law Enforcement, Israel Nature and Parks Authority
Mr. Rony Malka's 40-year career with the Israel Nature and Parks Authority (INPA), the country's wildlife protection agency, has been exceptional. He worked as a ranger, nature reserve manager, and regional director prior to 1998, when he was chosen to lead INPA's Division of Law Enforcement and its CITES Management Authority. During his career he reestablished populations of white oryx and onagers; campaigned to create the Marine Peace Park in the Gulf of Aqaba; developed a new enforcement regime to include the regulation of wildlife trade; enhanced cooperation among Israel's law enforcement agencies; led the promulgation of regulations to prohibit private possession of primates, raptors, and carnivores and prohibit falconry and animal use in circuses; contributed to INPA's effort to help the Kenya Wildlife Service establish a wildlife forensics laboratory; helped create Interpol's Wildlife Crime Working Group; and engaged in capacity building work around the world. He is currently promoting new regulations in Israel to designate all CITES-listed species as protected species under Israeli law and provide full legal protection to amphibians, reptiles, cetaceans, felids, sharks and rays, and other species. Mr. Malka obtained a law degree to improve his abilities to combat wildlife crime and, throughout his career, taught generations of youngsters that wildlife belongs in the wild.
Mr. Sanjay Dutta, Range Officer, Belaboba Range, Jalpaiguri District, India
Mr. Sanjay Dutta is a range officer in the Belaboba Range in the Jalpaiguri district in India. His efforts to protect the forest and environment and combat wildlife crime are a product of his dedication, determination, discipline, and selflessness. This attitude has spread throughout the Belaboba Range, increasing morale and encouraging his colleagues to leave no stone unturned in ending wildlife crime. He has succeeded in ending timber trafficking in his area, apprehending rhino poachers, and otherwise unraveling illegal wildlife trade networks. Mr. Dutta is an "exceptional enforcement officer" according to his colleagues. Since 2013, he has pursued wildlife criminal cases involving deer meat, myna birds, Tokey geckos, red sand boas, cobras, elephant ivory and skins, pangolins, leopard skins and bones, rhino horn, snake venom, and tiger bones.
The late Mr. Emily Stephen Kisamo, Head of Anti-Poaching, Tanzania National Parks, and Director, Lusaka Agreement Task Force
The late Mr. Emily Stephen Kisamo spent most of his career working for Tanzania National Parks, eventually leading its anti-poaching unit. From 2002 to 2009, he was the director of the Lusaka Agreement Task Force (LATF). As director of LATF, he developed its first regional strategic plan; expanded its cooperation with international multinational organizations, including those governing the implementation of CITES; investigated a 2002 seizure of 6.2 tonnes of ivory in Singapore; assisted with the establishment of an African elephant ivory DNA database; enhanced LATF's role in various international environmental crime working groups, including those working on Interpol's OASIS project and the Green Customs initiative; and advocated for increased funding to strengthen wildlife law enforcement systems. He strongly believed that wild animals were a critical asset of any government, opposed corruption and the misuse of power, and was a champion of CITES as the most relevant international regulatory mechanism to ensure wildlife sustainability, bolster national economies, and protect the environment. Tragically, in December 2015, he was found murdered in his car—killed, many believe, for his wildlife advocacy.
The Honorable Judi Wangalwa Wakhungu, Cabinet Secretary, Ministry of the Environment and Natural Resources, Government of Kenya
The Honorable Judi Wangalwa Wakhungu, secretary of Kenya's Ministry of the Environment and Natural Resources, is a driving force behind wildlife law enforcement improvements within the Kenya Wildlife Service. Under her stewardship, the Kenya Wildlife Service has hired and trained 1,200 new rangers; embraced new law enforcement technologies, including night vision equipment, thermal imaging, and DNA analysis; and intensified its prosecutions of wildlife criminals, resulting in a substantial decline in poaching over the past three years. As a scientist, Secretary Wakhungu understands the value of empirical evidence to combat wildlife crime and championed the establishment of Kenya's wildlife forensic laboratory, which recently opened and has already provided admissible DNA evidence in over 100 wildlife cases. Secretary Wakhungu also played a leading role in Kenya's April 2016 destruction of 105 tons of elephant ivory and 1.35 tons of rhino horn to signify intolerance for wildlife crime and underscore the urgent need to protect elephants by returning all populations to CITES Appendix I.
Mr. Gibson Mandaza, Deputy Chief Magistrate of Zimbabwe
In recent years, Mr. Gibson Mandaza, the deputy chief magistrate of Zimbabwe, has been instrumental in combatting wildlife crime. Mr. Mandaza is leading efforts to pursue and prosecute wildlife criminals in Zimbabwe by establishing training courses so all magistrates under his jurisdiction are fully cognizant of wildlife crime. He has directed that he be informed of any wildlife court case in the country so that he can provide assistance, as necessary, to presiding magistrates. This has led to stricter sentences for wildlife crimes country-wide. His initial work on wildlife crime involved the illegal pangolin trade. In 2015 and 2016 alone, Mr. Mandaza oversaw 50 criminal cases related to the illegal pangolin trade, involving 110 accused criminals, 91 of whom have been convicted; 57 of these have been sentenced to prison or restitution, while 34 await sentencing.
Wildlife Crime Pillar of the Central Investigation Bureau, Nepal Police
The Wildlife Crime Pillar of the Central Investigation Bureau of the Nepal Police is pivotal in combatting organized wildlife criminal networks trafficking in wildlife parts and products—including from tigers, rhinos, and elephants—in the trans-Himalayan region. The unit, established in 2010, is dedicated to investigating serious national and transnational crimes and apprehending wildlife criminals who have absconded from justice. It collaborates with other Nepalese agencies and works with non-governmental organizations to enhance its wildlife crime control efforts. Unit officers have arrested over 300 poachers since 2010. In 2015 and 2016, they captured international fugitives wanted for illegally trading rhino horns, contributing to no rhinos being poached in Nepal since May 2013. During the same time period, the unit conducted 28 operations linked to the illegal trade in Asian big cats, arresting 33 people and seizing 15 tiger skins, nearly 122 kg of tiger bone, 12 leopard skins, nearly 15 kg of leopard bone, and four teeth and two skins of clouded leopards.
Mr. Richard Bonham, Director of Operations, Big Life Foundation, Kenya
Mr. Richard Bonham, director of operations for the Big Life Foundation in Kenya, has successfully pursued conservation and wildlife law enforcement campaigns to protect wildlife, while generating public support for conservation. Some of his career accomplishments include founding the Selous Rhino Trust to protect a rhino population once considered extinct; collaborating with the Maasai to develop an eco-tourism lodge providing employment to local people; creating the Maasailand Preservation Trust (MPT)—which merged with the Big Life Foundation in 2010—through which he pioneered the Community Game Scout program empowering local residents to collect snares and assist in combatting wildlife crime; co-founding the highly successful Predator Compensation Fund to eliminate or reduce retaliatory killing of predators who kill livestock; helping create the Maasai Olympics, which provides a culturally relevant sporting competition for young Maasai warriors as an alternative to killing lions; implementing a coordinated cross-border anti-poaching operation dramatically reducing poaching in Kenya and Tanzania; and helping create a human-elephant conflict mitigation program to protect farmers' crops and reduce retaliatory killings of elephants. Under MPT, Mr. Bonham helped establish a boarding school for girls, income generating opportunities for women, a free healthcare program, and a reforestation campaign. Additionally, as part of his work with the Big Life Foundation, he helped create a scholarship program supporting students and teachers.
The Anti-smuggling Bureau of General Administration of Customs of the People's Republic of China
The Anti-smuggling Bureau of General Administration of Customs of the People's Republic of China (ASB) is a police force set up within China Customs. It oversees the work of 42 anti-smuggling bureaus and 202 anti-smuggling sub-bureaus that, in total, represent approximately 10,000 police staff across the country. The ASB and its local offices have filed 1,223 criminal cases involving wildlife trafficking, arrested 2,196 suspects, destroyed more than 200 criminal gangs in China and abroad, and investigated more than 10,000 administrative cases involving violations of customs regulations related to endangered species. It has organized and participated in numerous national and international operations to combat wildlife crime, including National Shield in 2012, Joint Action on Combatting Smuggling in 2013, Operation Guard in 2015, Operation Five Battles in 2015, a joint operation with the government of Germany in 2015 to target cacti poachers, and Operation National Sword in 2016. These operations resulted in the arrests of 262 suspects, filing of nearly 420 administrative cases, and the seizure of over 110 tons of illegal animal and plant products. In addition, the wildlife crime intelligence that ASB has provided to other government entities has led to arrests, including of an international fugitive, and the seizure of saiga horns, muskrat furs, wapiti horns, brown bear furs, ivory, pangolin scales, rhino horn, and leopard skins. The bureau also collaborates on CITES implementation with many other agencies in China, conducts wildlife law enforcement training workshops throughout Southeast Asia, and engages in efforts in Africa to educate Chinese nationals about wildlife crime.
The late Congolese Institute for Nature Conservation (ICCN) rangers and members of the Armed Forces of the Democratic Republic of the Congo (FARDC)  Mr. Dieudonné Agoyo Mbikoyo, Mr. Jean-Marie Abolo Kpionyeslinani, Lieutenant Moise Ekumu Mospada, Sergeant Kamale Musubao, Captain Anselme Muhindo Kimbesa, Colonel Jacques Lusengo Sukamate, Mr. André Migifuloyo Gada, Corporal Djuma Uweko Adalo, Mr. Rigobert Anigobe Bagale, Mr. Richard Sungudikpio Ndingba, and Mr. Dieudonné Tsago Matikuli, of the Democratic Republic of the Congo
Eleven men were killed in the line of duty between June 2015 and April 2016 in Garamba National Park in the Democratic Republic of the Congo. In a total of four incidents involving heavily armed poachers, these men were murdered in cold blood as they attempted to stop the slaughter of elephants in the park. The victims included rangers employed by the Congolese Institute for Nature Conservationand soldiers working for the Congolese Armed Forces. These men, who gave their lives to combat wildlife crime, left behind families—including children who no longer have a father. The slain individuals and their families are victims of the illegal ivory trade, just as the elephants are. Those who purchase ivory, therefore, are culpable in such tragic events that leave permanent holes in hundreds of families who lose loved ones to poachers each year.