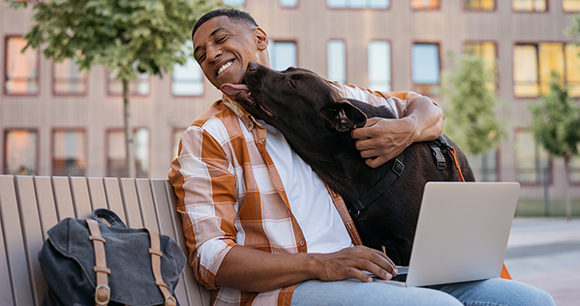 Advance your career and learn from experts!
Are you interested in making a difference for animals in your career? The Animal Welfare Institute is a nonprofit organization dedicated to reducing animal suffering caused by people. We seek better treatment of animals everywhere—in the laboratory, on the farm, in commerce, at home, and in the wild. Click on the links below to learn more about internship opportunities at AWI.
Animals and Interpersonal Violence Intern
Communications Intern
Donor Relations Intern
Farmed Animal Law and Policy Interns
Legislative Interns
Shark Fin Campaign Interns
Wildlife Law and Policy Interns
---
The People
AWI staff members host recent graduates and students from university undergraduate and graduate programs and law schools across the globe. AWI's interns are supervised by subject matter experts committed to helping students achieve their career goals.
The Experience
AWI offers internships in each of its six program areas. Internships cater to individuals with a variety of skills, interests, and educational backgrounds. Interns gain real-world experience in advancing policy on behalf of animals. Responsibilities vary depending on the program area, but often include researching and drafting factual, scientific, or legal analyses, writing administrative comments in response to government rulemaking proposals, contributing to litigation efforts, conducting research and analysis for technical reports, creating communications strategy, and promoting pertinent legislation alongside AWI staff. AWI hosts interns each fall, spring, and summer. Interns may work part- or full-time and may receive academic credit for their placement, depending on their schools' requirements.
Paid Internship Program
In order to broaden the scope of representation in the animal protection movement and make participation in AWI's internship program accessible to all, AWI has instituted a Paid Internship Program, which provides a limited number of paid internships to students who demonstrate commitment to AWI's mission, need or special circumstances warranting support, and dedication to advancing the principles of diversity, equity, and inclusion. Learn more about how to apply here.
The Outcome
AWI's interns leave their placements with strengthened advocacy skills, life-long connections, and a passion for improving animal welfare.
What Interns Say
"I have always been passionate about animal welfare. The internship with the Animal Welfare Institute gave me a great opportunity to learn about the work in the professional animal welfare world and deepen my understanding on animal welfare issues. Being a shark fin program intern, I got familiar with related policies and how AWI works with policymakers. Being able to participate in team meetings further exposed me to AWI's work in fields other than ocean animals, such as farm animals and companion animals. I also had the opportunity to attend hearings on the Hill and participate in other events of interest. Colleagues created a welcoming and encouraging environment, and the pet-friendly office made it one of my favorite workspaces."

Yufan (Stella) Yao, student, Master of Public Administration, focus on Social Impact, Innovation, and Investment at New York University
"AWI's Terrestrial Wildlife Law and Policy internship program was engaging, exciting, and reassuring. It provided me with real-world knowledge necessary for a successful career in wildlife law, and I now apply that knowledge to my current job with the State of Florida. AWI's internship helped me gain insight into the profession, taught me the essential qualities necessary to succeed in the field, allowed me to build professional connections, and gave me the flexibility to explore my own interests. Internships should be consequential by providing skills that last way beyond the semester, and AWI's internship did just that. This internship, under the guidance and mentorship of Johanna Hamburger, far exceeded my expectations. It would be a mistake for anyone interested in wildlife policy and law to not apply to this internship. I am forever grateful to AWI and Johanna for making this incredible opportunity possible and solidifying my passion and interest in wildlife law."

Megan Di-Lernia, Manatee Rules Coordinator for The Florida Fish and Wildlife Conservation Commission