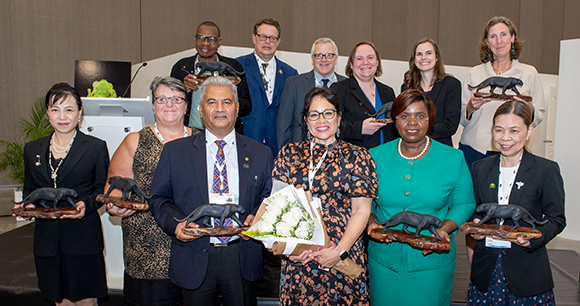 The 2022 Clark R. Bavin Law Enforcement Award recipients are as follows:
 
Anti-smuggling Bureau of China Customs for diligently pursuing the arrests of numerous international wildlife criminals engaged in the trafficking of massive quantities of elephant ivory, rhinoceros horns, and other wildlife products. The bureau also has participated in global joint operations to combat the smuggling of endangered wildlife, organized training workshops for law enforcement partners, and coordinated public awareness campaigns to protect wildlife.
Ryan Bessey, special agent at the US Fish and Wildlife Service, and Ryan Connors, senior trial attorney at the US Department of Justice, for dismantling a North American turtle smuggling operation involving thousands of CITES-listed turtle species. Their successful collaboration resulted in prison time and substantial fines imposed on the American and Chinese criminals responsible for the illegal collection and international trade of turtles.
Lance Cruse, intelligence officer at the United Kingdom's Border Force, for sharing his extensive knowledge of wildlife trafficking with police and customs officers, veterinarians, and others committed to ending wildlife crime. Cruse has trained colleagues around the globe, including in Panama, and has prepared various guidelines, handbooks, and species checklists to aid enforcement efforts.
Jonnes Alfred Kadamika, retired head of a covert investigations unit of the Malawi Police Service, for his instrumental role in dismantling the Lin-Zhang gang, one of southern Africa's most prolific wildlife crime syndicates involved in the illegal trafficking of pangolin scales, rhino horns, ivory, hippo teeth and other goods; 10 gang members were sentenced to a combined 68 years in prison. As an honorary parks and wildlife officer in Malawi, Kadamika continues to share intelligence leading to the arrests of other wildlife criminals.
Thanatchon Kengkasikij, police colonel with the Royal Thai Police, for his nearly two decades of service combatting wildlife and forest crimes in Thailand and Asia, resulting in hundreds of arrests. Kengkasikij has conducted investigations into the illegal trade of big cats, live birds, elephant ivory, and shahtoosh (wool from a rare Tibetan antelope), including at the infamous Chatuchak Weekend Market in Bangkok. He was a longstanding member of the Thailand Wildlife Enforcement Network and helped establish the regional ASEAN Wildlife Enforcement Network.
Ahmed Ali Mohamed, wildlife law enforcement officer at Kenya Wildlife Service, for his outstanding leadership in planning and executing multiple covert operations to apprehend notorious wildlife criminals, disrupt the link between poaching and terrorism financing, and intercept suspects to prevent future poaching. Over his 17-year career, Mohamed has led or participated in the arrests of numerous criminals in possession of elephant tusks, rhino horn, pangolin scales, explosives, and illegal weapons. In 2020, he arrested a suspect and recovered pieces of ivory despite being stabbed during the operation.
Paul Montuori, special agent at the US Fish and Wildlife Service, for launching investigations at home and abroad to take down wildlife criminals engaged in the illegal trade of kingsnakes, tarantulas, dried seahorses, pipefish, shark fins, scorpions, and other wildlife parts and products, including from species protected under CITES and the Endangered Species Act.
Tilotama Varma, additional director at the Wildlife Crime Control Bureau in India, for her leadership in conducting hundreds of multiagency operations leading to the discovery of 950 CITES violations and the arrests of nearly 1,600 wildlife criminals since 2015. Varma has trained more than 66,000 police and forest officers and conceptualized, planned and coordinated a number of species-specific operations targeting crimes involving turtles, big cats, birds, mongoose, pangolins, and other species in India. She also has collaborated in several Interpol-led investigations.