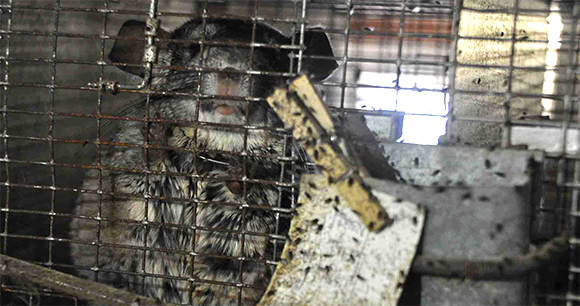 On October 8, 2021 an administrative law judge permanently revoked the dealer license of Dan Moulton, owner of Moulton Chinchilla Ranch (MCR), one of the nation's primary suppliers of chinchillas for experimentation.
Following an 18-day hearing, US Department of Agriculture Administrative Law Judge Jill Clifton deemed Moulton "unfit" to hold an AWA license and described his animal welfare violations as "absolutely astounding." She also fined him $18,000. This is only the second time in 18 years that an administrative law judge has rendered an oral decision under the AWA from the bench, underscoring the severity of Moulton's violations related to animals' health, sanitation, and safety.
For years, AWI has been raising concerns about the abysmal conditions at MCR, which sells its chinchillas to research facilities around the country, and calling out the US Department of Agriculture for failing to prevent the suffering of animals by enforcing the AWA. Since 2014, Moulton has amassed the worst animal care record of the 10,000+ entities regulated under the law, as USDA inspectors have documented. Yet the USDA, the research industry, and state and local law enforcement repeatedly refused to act, even after MCR had been cited for more than 100 AWA violations on USDA inspection reports.
Moulton has publicly stated he is considering appealing the judge's decision. Such appeals can drag on for years. AWI appreciates the judge's action, but it does not excuse the USDA's longstanding failure to protect these animals. The chinchillas should have been seized years ago, as prescribed under the Animal Welfare Act, to prevent further harm.
AWI will be closely monitoring developments in this case. Further information about MCR's record, USDA inspections and photos, and media coverage are below.
2021 USDA hearing
Case name: In re: DANIEL J. MOULTON, an individual, also known as DAN MOULTON, doing business as MOULTON CHINCHILLA RANCH
Case number: AWA DOCKET 19-0004
The hearing spanned four weeks over a four-month period: 
July 26–30, August 9–13, and September 20–October 8
 
Summary of allegations against MCR
The complaint (see below) alleges more than 80 separate instances of failure to provide veterinary care and the repeated failure to provide USDA inspectors with access to the premises to assess the dealer's compliance with the AWA. In addition, the complaint cites repeated failure to remove excessive build-up of excreta, food waste, shavings, dust, water, fur, and dead animals in the cages, as well as failure to maintain structurally sound enclosures, provide adequate lighting, use clean water receptacles, employ a sufficient number of staff, and control flies.
USDA court filings (obtained via FOIA)
Background
AWI coverage of MCR
Daniel Moulton, Dealer of Chinchillas for Research, Has License Revoked
(AWI Quarterly, winter 2021)
USDA Takes Infamous Chinchilla Dealer to Court
(AWI Quarterly, fall 2021)
Judge Permanently Revokes License of Notorious Chinchilla Supplier, Calls Violations "Absolutely Astounding"
(AWI Press Release, October 2021)
USDA Photos Document Horrific Suffering at Chinchilla Research Supplier
(AWI Quarterly, fall 2020)
Science Shines Harsh Light on Research Chinchilla Suppliers
(AWI Quarterly, summer 2020)
As USDA Dithers, Research Chinchilla Supplier Goes Unchecked
(AWI Quarterly, spring 2020)
Media coverage
License of leading research chinchilla supplier permanently revoked
(Science, October 8, 2021)
The U.S.'s only research chinchilla supplier has been shut down. Here's why that matters.
(National Geographic, October 8, 2021)
Major U.S. chinchilla supplier heads to court with more than 100 animal welfare violations
(National Geographic, July 28, 2021)
Chinchilla dealer to appear in court for alleged animal welfare violations
(Science, July 16, 2021)
Sick chinchillas languish at farms that supply U.S. researchers
(Science, May 26, 2020)
---
Photos
Photos and captions from USDA inspections of Moulton Chinchilla Ranch.
| | |
| --- | --- |
| Swollen, pus filled left eye. From announced inspection. | Left eyelid crusted and swollen, and had a creamy pale discharge. |
| | |
| --- | --- |
| Crusty scabs and open sore under chin around collar that is too tight. | Bottom of neck after collar was removed. Matted hair, eroded skin seen with putrid odor. From announced inspection. |
Hundreds of additional photos taken during inspections are available in the links below.
(Warning: Some of the photos are extremely graphic.)
2016 | 2017 | 2018 | 2019 | 2020
---
USDA Inspection Reports
MCR operates as a USDA-licensed dealer, # 41-B-0239.
2021:
2020:
2019:
2018:
2017:
2016:
2015:
2014: