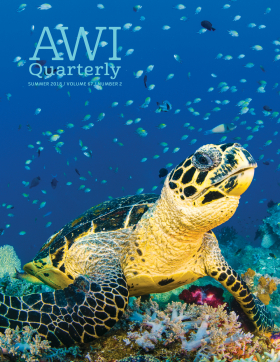 About the Cover
A hawksbill sea turtle (Eretmochelys imbricate) cruises the reef off Indonesia's Raja Ampat Islands. Habitat loss and degradation, entanglement in fishing gear, ingestion of marine debris, slaughter for meat, and the tortoiseshell trade have taken a heavy toll on this critically endangered animal.
AWI is partnering with acclaimed author Katherine Applegate and HarperCollins Children's Books to raise awareness about species threatened by human activities and our responsibility to ensure we don't cause their extinction. See page 16 to learn more about the partnership and Applegate's new endangered-species-themed "Endling" series.
Photograph by Pete Oxford/Minden Pictures.