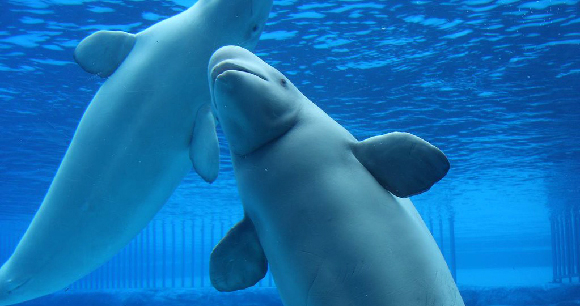 Photo by Antony Pranata
Washington, DC—Lobbyists and executives for Mystic Aquarium and Georgia Aquarium used back-door politics to try to win approval for a controversial permit application to import five captive-born beluga whales from Marineland in Canada, an Animal Welfare Institute (AWI) analysis of hundreds of documents has found.
The documents, obtained by AWI under the Freedom of Information Act, show that aquarium leaders and their consultants lobbied all levels of the Department of Commerce, starting with Secretary Wilbur Ross, to try to influence the process and gain support for the import permit regardless of what the Marine Mammal Protection Act (MMPA) and its implementing regulations actually allow. These high-level meetings occurred in late 2017, more than a year before Mystic formally submitted its application and two years before the public had an opportunity to comment on it.
On Friday, AWI delivered a letter to Secretary Ross, urging him and other political appointees in his department to recuse themselves from the decision-making process on the beluga import permit. As AWI notes, these records suggest that multiple high-level officials within the Department of Commerce were favorably inclined to grant the permit well before Mystic even filed its application.
Based on the documentation, it is possible that one or more of these officials – including Secretary Ross – ordered the National Marine Fisheries Service (NMFS) Office of Protected Resources (whose career staff are responsible for reviewing and making decisions on such applications) to approve the permit regardless of the facts or the law. If so, this would amount to unlawful predetermined federal decision-making. It also appears that multiple lobbying firms involved in this effort disregarded federal reporting requirements (see Attachment E).
"Such an intense level of lobbying for a captive marine mammal permit under the MMPA is unprecedented," said Dr. Naomi Rose, AWI's marine mammal scientist, who has more than 25 years of experience advocating for captive marine mammal welfare. "These records point to a corrupted process where lower-level employees could be pressured to approve this application despite what is best for these whales and permissible under the law."
In December, AWI, joined by a dozen other environmental and animal protection organizations, submitted comments to the Office of Protected Resources strongly opposed to Mystic's permit application. Mystic claims that scientific research is the primary purpose of the import, with public display as "incidental." Yet these whales would permanently be on public display and allowed to breed, raising concerns that the real purpose of this import is to perpetuate the captive beluga population for public display in the United States.
Mystic Aquarium's emphasis on the research component is a necessary distinction, since these whales are descendants of a population of wild belugas in the Sea of Okhotsk that was designated as depleted in 2016. Animals from a depleted population can only be imported for research or conservation (not public display) under the MMPA. In 2012, Georgia Aquarium attempted to acquire 18 wild-caught belugas from this same population in Russia before it was designated depleted. That permit request was denied by NMFS, and a federal judge upheld the government's decision in 2015.
While Mystic has attempted to downplay Georgia Aquarium's involvement in its application, the permit would allow Georgia Aquarium to receive three of the five belugas under specific circumstances. According to documents reviewed by AWI, Georgia Aquarium is heavily invested in this permit being approved.
NMFS has not yet made a decision on the import permit. At latest check, Canada, which last year banned the public display and breeding of cetaceans altogether, has not yet received an application to export these belugas from Marineland. Under its laws, Canada could allow the export for research, but not for public display.
AWI analyzed correspondence that covered the period from January 2015 through May 2019. Among the highlights:
Media Contact Information