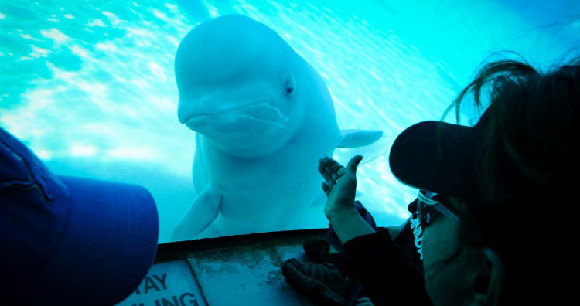 Photo by Jo-Anne McArthur - WeAnimals
Ottawa, Canada—S-203, the Ending the Captivity of Whales and Dolphins Act, has received Royal Assent, making the historic legislation, which ends the public display of captive cetaceans, official Canadian law. After nearly four years of debate, S-203 passed the Canadian Parliament on Monday, June 10th to much celebration. In response to this momentous law, the Animal Welfare Institute (AWI) released the following statement:
"Whales and dolphins are intelligent, socially complex, wide-ranging marine mammals who do not belong in captivity," said Dr. Naomi Rose, AWI's marine mammal scientist. "In the wild, whales and dolphins swim long distances and often dive hundreds of feet deep daily, as they interact with their family and friends; however, in captivity they are exploited, held in artificial groupings, and suffer from boredom and repetitive routines, all in the name of entertainment."
There are currently only two facilities that keep cetaceans in captivity for display purposes in Canada: the Vancouver Aquarium and Marineland, a marine theme park in Ontario. Rose, who testified in spring 2017 before the Canadian Senate in support of S-203, continued: "No concrete enclosure can recreate the natural ocean environment for these widely ranging mammals. It's remarkable that the Canadian government has recognized this and is ending the captivity of these magnificent beings."
Under the new law, both the Vancouver Aquarium and Marineland are permitted to maintain the marine mammals they currently display, but are prohibited from breeding them.
To learn more about AWI's work on marine mammals in captivity click here: https://awionline.org/content/case-against-marine-mammals-captivity.
Media Contact Information