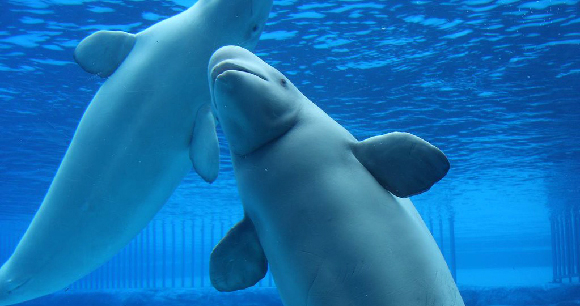 Photo from Flickr by Antony Pranata
NOAA Fisheries will hold a public hearing Nov. 18 on permit application to import five belugas from Canada's Marineland
Washington, DC—The Animal Welfare Institute (AWI) and a coalition of environmental and animal protection organizations strongly oppose Mystic Aquarium's unprecedented request to import five captive-born beluga whales from Canada for scientific research. The whales would also be on public display and allowed to breed, raising concerns that the real purpose of this import is to perpetuate breeding for public display.
Marineland, a marine theme park in Niagara Falls, Canada, acquired the parents of these belugas from the wild—most from a population in Russia that the US government has designated as depleted. US law prohibits the import of depleted marine mammals or their descendants for public display, but has an exemption for scientific research. A new law in Canada bans the public display and breeding of cetaceans altogether, as well as their trade, but also has an exemption for scientific research.
"The laws on both sides of the border would be violated should this import occur," said Dr. Naomi Rose, marine mammal scientist for AWI, "not because Mystic doesn't engage in legitimate research, but because the whales would be on exhibit and allowed to produce offspring that are highly likely to go to other US public display facilities with far weaker claims to conducting bona fide research."
Marineland's whales were grandfathered under the new Canadian law for public display, but the country's breeding ban still applies. Marineland hasn't yet applied for an export permit and, given Mystic's plans to allow breeding, may never receive one. More troubling, Mystic Aquarium and the other facilities to which it would send belugas—including Georgia Aquarium, which infamously attempted to import 18 wild-caught belugas from Russia in 2012—would be exploiting an exemption meant solely for scientific research.
The National Marine Fisheries Service (NOAA Fisheries) will hold a public hearing on Mystic's permit application on Nov. 18 at 1 p.m. in the Great Hall of the Silver Spring Civic Building, 1 Veterans Place, in Silver Spring, Maryland. NOAA Fisheries will consider additional public comments submitted by the Dec. 2 deadline.
AWI has several objections to this application:
Three of the five whales will belong to Georgia Aquarium. After NOAA Fisheries denied its permit application to import wild-caught belugas, the aquarium challenged the decision in federal court. In 2015, the judge presiding over the case issued a scathing ruling clarifying the many ways in which the aquarium's permit request failed to pass legal muster. It is disturbing that Mystic, a well-respected facility, would consider risking its reputation to work with Georgia Aquarium.
It is difficult to breed belugas in captivity. Despite decades of North American facilities cooperating to increase their captive beluga population through breeding, few calves are born and many don't survive for long, and the population is in decline. Under their agreement, Mystic and Georgia Aquarium would allow the whales to mate and produce offspring, which could bring "new blood" to the US captive beluga breeding program—or could lead to more dead baby belugas.
While it would likely cost more money and take more time, conducting the proposed research at Marineland would provide a larger sample size, wouldn't flout laws on both sides of the border, and would avoid causing stress to the animals from transport and having to adapt to a new social environment. The money saved by not transporting the whales could be used to set up the research program at Marineland.
With eight belugas, Mystic could actually be considered overcrowded, negating the argument that the import is partly to reduce overcrowding for these whales. Georgia Aquarium currently has five belugas, which is likely maximum capacity. Although Marineland's belugas live in overcrowded conditions, with more than 50 belugas, transferring a mere five whales won't fix that.
"Virtually all of the arguments against conducting research at Marineland don't hold up to scrutiny," Dr. Rose said. "If these facilities were truly conservation- and welfare-minded, they would not seek to get around conservation and welfare laws."
Media Contact Information