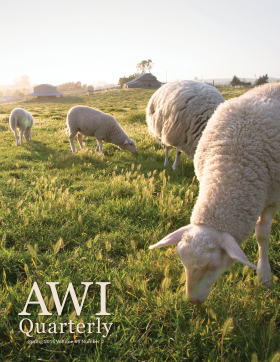 About the Cover
Pasture-raised sheep graze at an Animal Welfare Approved high-welfare farm. At such farms, the emphasis is on breeding and husbandry techniques that enable animals to thrive in natural settings and engage in species-appropriate behaviors.
Not so at the US Department of Agriculture's Meat Animal Research Center (MARC) in Clay Center, Nebraska. There, the emphasis is on engineering animals that can serve as anonymous units of ever-increasing production. An investigative report printed this year in The New York Times revealed ghastly production-boosting experiments performed at MARC—studies that  indicate a shocking disregard for the pain and suffering of the animals involved.
Such unconscionable research is allowed to go on in large part because agricultural research involving farm animals is exempt from scrutiny under the Animal Welfare Act. AWI is urging the USDA to reign in its rogue facility, and urging Congress to end the Animal Welfare Act's farm animal research exemption. For more on this story, see pages 20 and 22.
Photo by Mike Suarez