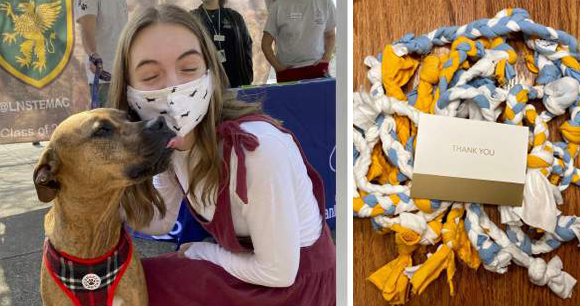 photo by Reagan Frye
Washington, DC—From shuttling India's street dogs to veterinary offices to writing a children's book about how plastic pollution harms marine life, the winners of the 2021 "A Voice for Animals" contest show they not only care about protecting animals and safeguarding their habitats, but also are willing to get involved, make a difference, and educate others.
The annual contest, in its 31st year, offers high school students ages 14 to 18 the opportunity to win cash prizes for essays, videos, or photo essays that explore strategies to mitigate animal suffering. The contest is sponsored by the Animal Welfare Institute (AWI) and the Humane Education Network, with additional support from the Palo Alto Humane Society.
This year's 17 winners explored timely topics across the globe, such as the mistreatment of tropical fish in Thailand, the harmful impacts of agricultural development on wildlife in Manitoba, and the inhumane live plucking of geese in Hungary and China to produce down pillows, sofas, and jackets.
"Several of the prize-winning submissions showcased not just the actions of the authors, but also their drive to reach other young advocates and involve their communities in efforts to improve the lives of animals," said Regina Terlau-Benford, AWI's humane education manager. These young leaders are contributing their talents to inspire a more compassionate society."   
The first-place winners are:
For more information on the "A Voice for Animals" contest and to review all the winning entries, visit hennet.org/contest.
Media Contact Information