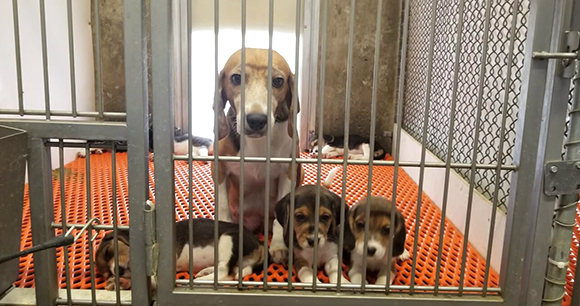 In May 2022, a federal court in Virginia took the extraordinary step of granting the Justice Department a temporary restraining order—an emergency procedure used to halt ongoing misconduct threatening irreparable harm—against a facility in Virginia that breeds and sells beagles for experimentation. The court concluded that such extraordinary relief was necessary because of the serious and repeated Animal Welfare Act violations documented by USDA investigators over a 10-month period.
The court noted that USDA inspectors had documented more than 60 violations, with over half being the most serious type. These violations encompassed failings in fundamental animal welfare requirements such as veterinary care, staffing, housing, sanitation, recordkeeping and feeding. Inspectors found, in a 10-month period, that "many [dogs] were not given anesthesia before they were euthanized by intracardiac injection. Beagles with even minor injuries or easily treated medical conditions were euthanized rather than given veterinary care. Nursing female beagles were denied food … . The food that the beagles did receive was observed to contain live insects, worms, maggots, beetles, flies, ants, mold, and feces." Inspections noted that Envigo had failed to determine the cause of death for over 300 puppies, including 173 so decomposed it was impossible to determine the cause of death. 
Ultimately, after Envigo unsuccessfully attempted to preserve its ability to fill contracts and profit from the dogs who had been so abused, a settlement was reached and consent decree entered in which Envigo was required to shut the Cumberland facility and permit the remaining dogs to be made available for adoption.
While AWI is relieved that the nightmare for the Cumberland dogs is nearing an end, we remain extremely concerned about
the tens of thousands of animals housed at other Envigo/Inotiv breeding facilities, and
the inexcusable failure of the USDA to act on the information its own investigators uncovered and documented over a 10-month period. Not until the Department of Justice, supported by the Commonwealth of Virginia, stepped in was any action taken to rescue the Cumberland dogs.
Below you will find key documents generated in the course of this investigation and litigation.
APHIS Inspection Reports
July 2021 (part 1)
July 2021 (part 2)
October 2021
November 2021
March 2022
May 2022
AWI Correspondence with APHIS
Letter and Attachments (March 2022)
Court Orders
Temporary Restraining Order (May 19, 2022)
Temporary Restraining Order (May 21, 2022)
Court Opinion Granting Preliminary Injunction (June 17, 2022)
Court Order Clarifying Scope of Injunction (June 27, 2022)
Court Order Denying Envigo's Motion to Reconsider Scope of Preliminary Injunction (June 30, 2022)
Court Ordered Consent Decree (July 15, 2022)
Key Court Filings
DOJ Complaint Seeking Declaratory and Injunctive Relief (May 19, 2022)
DOJ Motion for Preliminary Injunction (June 10, 2022)
DOJ Memorandum Supporting Motion for Preliminary Injunction (June 10, 2022)
Envigo's Response in Opposition to the Motion for Preliminary Injunction (June 13, 2022)
DOJ Motion to Clarify Court's Preliminary Injunction (June 24, 2022)
Envigo's Motion for Consent of the Court to Proceed with Fulfilling Existing Customer Orders (June 24, 2022)
Envigo's Opposition to the Motion for Clarification (June 24, 2022)
Envigo Motion to Reconsider Court's Clarification of Scope of Preliminary Injunction (June 28, 2022)
DOJ's Opposition to Envigo's Motion to Reconsider Scope of Preliminary Injunction (June 29, 2022)
Joint DOJ and Envigo Transfer Plan (July 1, 2022)
Sworn Statements from Key Witnesses
Hollingsworth (DOJ) Affidavit
Dr. Moffitt (VA Animal Fighting Task Force) Declaration
Dr. Murray (Envigo Veterinarian) Declaration
Dr. Sagartz (Inotiv Chief Strategy Officer) Declaration
Taylor (VA Attorney General Animal Law Unit) Declaration
AWI Coverage
Envigo Settlement Is First Step in Addressing Company's Abysmal Animal Welfare Record (AWI Press Release, July 2022)
Court Intervenes to Halt Horror at Beagle Breeding Facility (AWI Quarterly, summer 2022)