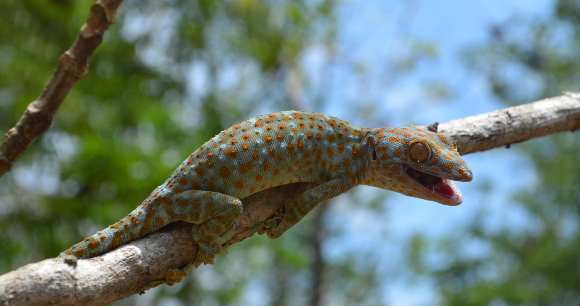 Photo by iStock
Global Leaders Must End Wildlife Trafficking, Unsustainable Trade
Washington, DC—Wildlife trafficking and the unsustainable wildlife and plant trade is a multibillion-dollar industry and a major threat to species in the United States and worldwide, according to a new report released today that highlights 10 species imperiled by this burgeoning trade.
Compiled by the Endangered Species Coalition with assistance from the Animal Welfare Institute (AWI) and other animal welfare and conservation groups, the report, "Trafficked: 10 Species Threatened by the Wildlife Trade," discusses how legal and illegal commerce involving wildlife and plants is driving significant declines in species' populations, and, in some cases, poses a direct threat to human health.
The report includes the Tokay gecko, nominated by AWI because this species has experienced a rapid decline fueled largely by the global trade in exotic pets and Asian traditional medicine. One of the largest living gecko species, the Tokay gecko is native to Southeast and East Asia with established populations in Florida and Hawaii.
The United States imported nearly 180,000 live Tokay geckos between 2007 and 2016 for the exotic pet trade. The majority of these geckos were captured from the wild in China, Vietnam, Thailand, Myanmar, Indonesia, the Philippines, as well as Bangladesh, where Tokay gecko populations are estimated to have recently declined by as much as 50 percent. Additionally, demand for Tokay geckos in Asian traditional medicine skyrocketed a decade ago, after a false rumor circulated that their body parts would cure AIDS.
Last year, at the 18th meeting of the Conference of the Parties (CoP18) to the Convention on International Trade in Endangered Species of Wild Fauna and Flora (CITES), the Tokay gecko was added to CITES Appendix II to enable greater monitoring and control of the trade.
"The insatiable demand for wild species as collectibles or for consumption is producing devastating declines in biodiversity around the globe," said Johanna Hamburger, director and senior staff attorney for AWI's terrestrial wildlife program. "The wildlife trade is one of the primary forces driving irreplaceable species to extinction. Tokay geckos are not a toy, nor do they have verified medicinal benefits. We need them fulfilling their ecological niche in the wild much more than we need them in our homes."
Other species listed in the report are:
Pinto abalone
Diamondback terrapin
Scalloped hammerhead shark
Pangolin
Rufous hummingbird
Saguaro cactus
Tiger
Venus flytrap
Yellow-headed parrot
Some species are captured for food or for their medicinal properties, including the scalloped hammerhead shark, pinto abalone, and the pangolin. Still other species are coveted as "collectibles," including the Venus flytrap and the rufous hummingbird. The diamondback terrapin of the US Gulf Coast is trapped and traded for pets and food.
"Wildlife and plant trafficking and trade is a multibillion-dollar industry that threatens fish, wildlife, and plants, as well as human communities," said Leda Huta, executive director of the Endangered Species Coalition. "We need governments and leaders around the world to commit to ending wildlife and plant trade and trafficking, while developing alternative, sustainable economic opportunities for communities."
In the past 40 years, many of the worst pandemics and epidemics—including SARS, Ebola, HIV/AIDS, MERS, avian flu, swine flu, and Zika—have all originated with the trade and consumption of animals. Moreover, habitat destruction and climate change are exacerbating the threat of human exposure to zoonotic diseases, as animals are forced to shift their ranges and live closer to humans.
In order to protect human health and prevent more pandemics, the report calls for a renewed commitment from global leaders to end wildlife trafficking and the unsustainable wildlife trade. To address the nexus between emerging infectious diseases and wildlife exploitation, Senators John Cornyn (R-TX) and Cory Booker (D-NJ) and Representatives Mike Quigley (D-IL) and Fred Upton (R-MI) crafted the bipartisan Preventing Future Pandemics Act of 2020. The bill, which has yet to receive a vote in Congress, would prohibit the import, export, and interstate trade of live wildlife for the purpose of human consumption, among other priorities.
Media Contact Information