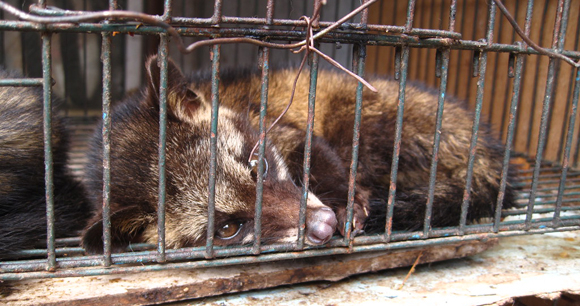 Photo by Surtr
Washington, DC—The Animal Welfare Institute (AWI) endorses legislation introduced today, the Preventing Future Pandemics Act of 2020, which seeks to prevent future pandemics by addressing the spillover of emerging infectious diseases from wildlife to humans.
The bipartisan bill, spearheaded by Senators John Cornyn (R-TX) and Cory Booker (D-NJ), and Representatives Mike Quigley (D-IL) and Fred Upton (R-MI), would prohibit the import, export, and interstate trade of live wildlife for the purpose of human consumption, and allocates $35 million for implementation of this ban. It also calls on the State Department to pursue live wildlife market closures abroad through international coalitions and other diplomatic measures, with special consideration for indigenous peoples in communities that are dependent on wildlife consumption for food security.
The legislation also allocates $150 million to the US Fish and Wildlife Service to hire, train, and deploy at least 50 new law enforcement officers in countries where there is a flourishing illegal trade in at-risk species. Additionally, the US Agency for International Development would receive $300 million to increase its efforts to promote global health and biodiversity, combat wildlife trafficking, and empower communities that wish to transition to sources of protein other than wildlife.
"COVID-19 has hit the world hard, and it is imperative that we take every precaution to thwart another catastrophic pandemic," said AWI President Cathy Liss. "The Preventing Future Pandemics Act is a meaningful step toward addressing the root causes of zoonotic disease transmission by reducing wildlife trade and the consumption of wild species. The United States must be a leader on this issue, and we're grateful to Senators Cornyn and Booker and Representatives Quigley and Upton for championing this legislation."
In the past 40 years, the worst pandemics and epidemics—including SARS, Ebola, HIV/AIDS, avian flu, swine flu, and Zika—have all originated with the trade and consumption of animals amid the destruction of their habitat. A significant portion of this multibillion-dollar industry is legal and unregulated.
The United States is one of the world's top importers of wildlife, responsible for an estimated 20 percent of the global wildlife market. While only a segment of this trade involves trafficking live wildlife for the purpose of human consumption, this sector must be eliminated to protect human safety and animal welfare.
Media Contact Information