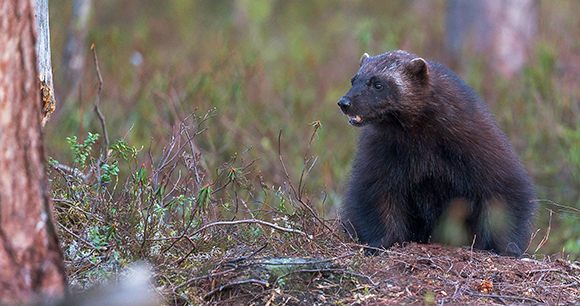 Photo by Vincent Van Zalinge
Washington, DC—The Animal Welfare Institute strongly opposes three proposed rules released today by the US Fish and Wildlife Service (USFWS) that would undermine vital sections of the Endangered Species Act (ESA). The rules impair protections for threatened species, the safeguarding of critical habitat and the consultation process between federal agencies. This USFWS action follows a slew of recent attacks by both the agency and Congress on this remarkably successful and popular conservation law.
"The US Fish and Wildlife's proposal to rescind these longstanding regulations would eliminate many essential conservation tools, upheld by courts across the country, that have protected imperiled species and their habitats for decades," said Cathy Liss, president of AWI. "With this drastic proposed revision of core components of the Endangered Species Act, the current administration is favoring industry at the expense of vulnerable wildlife."
One proposed rule would rescind the longstanding regulation, known as the "blanket 4(d) rule," under which the USFWS extends endangered species protections to all threatened species as well. Under this proposal, instead of automatically providing protection to threatened species, the USFWS would decide whether to do so on a case-by-case basis.
The other proposed rules would significantly weaken the process of listing species and designating their critical habitat, giving the agency broad discretion even as species hover perilously close to extinction. Today, most imperiled species occupy small fractions of their historical habitat and range. Given the current administration's hostility toward wildlife protection, giving the USFWS discretion over whether to provide statutory safeguards would seriously hinder the chances of full recovery and return to those native areas. In addition, the agency proposes "streamlining" the interagency consultation process—which actually means that the expert federal agencies tasked with implementing the ESA would have little or no input on determining a project's harm to listed species.
USFWS will soon open up a 60-day public comment period on the proposal.
"While this administration would have the American public believe otherwise, the need for species protections has not decreased over the decades since the ESA was enacted," said Liss. "Rather, increased threats from development and a changing climate necessitate the strong and full enforcement of the ESA now more than ever. We hope Secretary Zinke will retract these policy changes, both for the sake of America's valued wildlife and for the sake of the overwhelming majority of Americans who support the ESA and love our nation's wildlife."