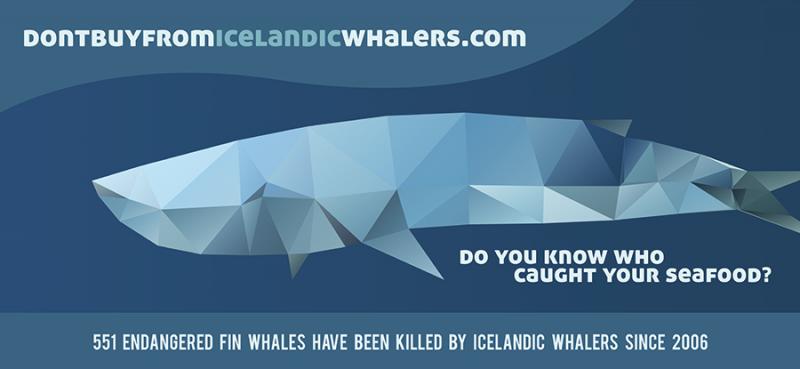 Ad Warns Consumers of Perils of Buying Seafood from Icelandic Whalers
Boston, MA—A mobile billboard—funded by a coalition of U.S. animal protection and conservation organizations—will take the message "Don't Buy From Icelandic Whalers" to the streets of Boston this week.
The large billboard makes its debut at the Kendall Square Cinema today, coinciding with a showing of Icelandic films sponsored by Iceland Naturally, a marketing program developed by Icelandic companies to increase demand for Icelandic products, including frozen seafood. The billboard will be prominently displayed throughout the area surrounding the Boston Convention and Exposition Center, site of the Seafood Expo North America (SENA) taking place Sunday, March 15, through Tuesday, March 17. The billboard will also make appearances at seafood restaurants and other locations throughout the city, including Legal Seafoods Harborside and Tavern Road Restaurant.
The billboard asks viewers, "Do you know who caught your seafood?" and features the stylized image of a whale. The ad directs viewers to its campaign website DontBuyFromIcelandicWhalers.com, which provides more information, including a video and an infographic, about Iceland's Hvalur whaling company, responsible for the deaths of 551 endangered fin whales since 2006. The website also identifies which North American businesses purchase seafood from companies linked to Hvalur, and tells consumers how to take action against Icelandic whaling.
Leading seafood company HB Grandi, which is exhibiting at SENA, is one of the businesses tied to Hvalur. Iceland's Minister of Fisheries, SigurðurIngi Jóhannsson, is expected to speak at a seminar at the SENA on Monday, March 16. Jóhannsson has continued to sanction a whaling quota for Iceland, despite the International Whaling Commission's commercial whaling ban.
The "Don't Buy from Icelandic Whalers" campaign is organized by members of the WhalesNeedUS coalition. The coalition is comprised of several organizations, including the Animal Welfare Institute (AWI), Greenpeace USA, Natural Resources Defense Council (NRDC), Whale and Dolphin Conservation North America (WDC-NA), World Animal Protection, the Nantucket Marine Mammal Conservation Program (NMMCP), the Environmental Investigation Agency (EIA), Dolphin Connection, and the Whaleman Foundation.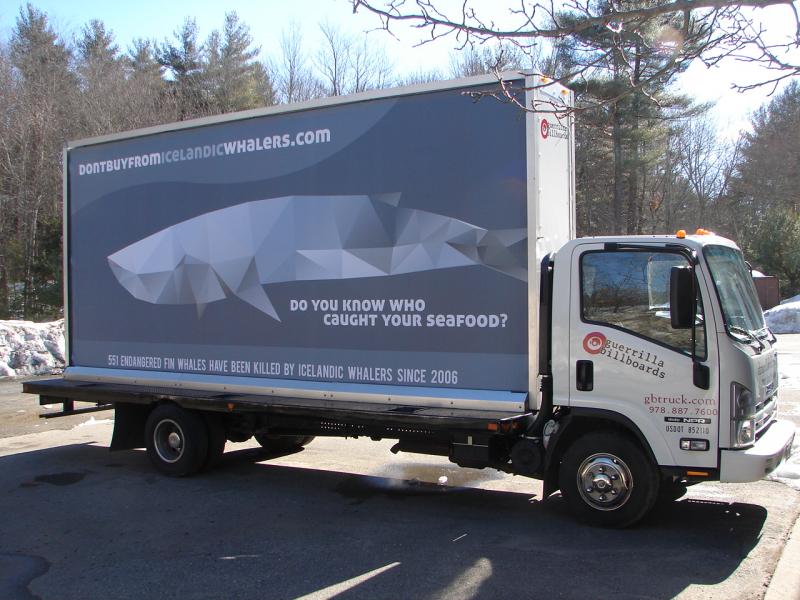 "We are here to remind the supermarket, food service, and restaurant representatives attending Seafood Expo North America that they need to listen to their customers, who clearly do not want to buy fish from whalers," said Susan Millward, executive director of AWI.
"Commercial whaling for products few people want makes no sense in the 21st century," said Phil Kline, senior oceans campaigner at Greenpeace USA. "It's bad for business."
"Fish sticks shouldn't fund whaling," said Taryn Keikow Heimer, senior policy analyst at NRDC. "People would be shocked to know that fish coming from HB Grandi is tainted with the blood of endangered whales. Now is the time for businesses and consumers to use their economic muscle to stop Iceland's renegade whaling."
"The message is simple," said Regina Asmutis-Silvia, executive director of WDC-NA. "If you purchase HB Grandi fish, you are helping to bankroll fin whaling."
"By refusing to buy from HB Grandi, US seafood companies can send a powerful message that the continued hunting of whales will not be tolerated," said Elizabeth Hogan, campaign manager for Oceans & Wildlife at World Animal Protection. "We commend the businesses that are taking a stand to protect fin whales and urge everyone who buys seafood to show that whaling has no place today."
"Recent scientific studies have shown that whales have cultures, passing down knowledge from generation to generation," said Scott Leonard, director of operations at NNMCP. "It is arrogant on the part of Iceland to put such cultures in peril by hunting an endangered species for profit, in defiance of the commercial whaling ban."
"Don't kill endangered fin whales," said Allan Thornton, president of EIA. "Stop Iceland's illegal hunt."
For more information on the campaign, visit www.DontBuyFromIcelandicWhalers.com.
####
Media Contact:
Amey Owen, 202-446-2128, amey@awionline.org
Background:
Iceland is one of only three nations that continue to engage in commercial whaling, in defiance of a moratorium imposed by the International Whaling Commission in 1982. Iceland has increased its self-allocated whaling quotas in recent years and, in December 2013, announced a five year block quota that could result in the deaths of nearly 2,000 whales, including 770 endangered fin whales.
According to a 2012 poll by the Benenson Strategy Group, 86 percent of the American public believes that the US has a moral obligation to protect endangered or threatened species, and 77 percent oppose commercial whaling. A further 66 percent of respondents said that they would be willing to stop buying products from companies engaged in commercial whaling.
HB Grandi, one of Iceland's largest seafood companies, plays a very active role in Iceland's whaling industry, providing its facilities for the processing of endangered fin whale meat for export primarily to Japan. In 2014, 137 endangered fin whales were killed by the Icelandic whaling company Hvalur, and cut and packed at an HB Grandi facility in Akranes, Iceland. HB Grandi's chairman, Kristján Loftsson, is both the CEO and a lead shareholder of Hvalur hf. 
Animal protection and conservation organizations are calling on US retailers to conduct an audit of their seafood supply chains in order to guarantee to the US public that these retailers do not source seafood from individuals, vessels or companies linked to whaling—including fish from third party agents and/or processors.