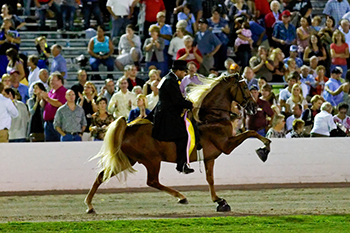 Washington, DC—A pending lawsuit supported by a potent segment of the walking horse industry appears to be the major impetus for the US Department of Agriculture's egregious decision to remove untold thousands of online Horse Protection Act (HPA) and Animal Welfare Act (AWA) records, the Animal Welfare Institute (AWI) stated today.
The case, Contender Farms v. USDA, was filed last year and focuses on the USDA's enforcement mechanisms regarding the HPA and the department's online listing of alleged HPA violations. Plaintiffs claimed that the USDA's posting of these online records violated the Privacy Act of 1974, a law passed in the wake of the Nixon administration's abuses of power. The USDA, in its February 7 clarification of its decision, stated it was acting out of an "abundance of caution."
"The USDA claims that it purged these crucial records 'based on [its] commitment to being transparent,'" said AWI president Cathy Liss. "This isn't an abundance of caution. It is capitulation to industry—a longstanding pattern for this department. Additionally, the USDA removed the records, despite not yet filing a reply to the lawsuit, which is currently in mediation. We can only imagine how much further the USDA will buckle if mediation ends this litigation." Using search terms culled from USDA's clarification, AWI was able to find the case on the internet.
On its website, the Foundation for the Advancement and Support of the Tennessee Walking Show Horse (FAST) openly discusses the industry's support for this suit, including almost $1 million raised in 2016 to fund various pro-industry initiatives, including this lawsuit. FAST notes accurately that when a second amended Contender Farms complaint was filed last September, the USDA stopped posting online enforcement action records, which include complaints, stipulated penalties, warning letters and consent decisions for HPA and the AWA.
The walking horse industry behind the lawsuit haslong been tainted by individuals who torment horses, using caustic chemicals in conjunction with "action devices" (such as chains and beadedrollers) and other painful procedures on their feet and legs to create an exaggerated gait. This is the same industry that also successfully prevented the finalization of regulations intended to stop the cruel manipulation of horses.
The last USDA press release announcing/posting online enforcement actions was dated August 16, 2016. The USDA's decision to remove the data has been roundly criticized by prominent players in the industry, such as the Association of Zoos and Aquariums, Petland, and the pro-animal experimentation blog Speaking of Research, among others.
"The implications of these recent USDA actions for transparency, deterrence of animal abuse by the walking horse industry and others, and accountability to the taxpaying public are chilling. AWI will not sit idly by while this catastrophe continues," concluded Liss. "If the USDA refuses to restore transparency, Contender Farms will not be the only lawsuit the department will be facing."
###
Media Contact:
Amey Owen, (202) 446-2128, amey@awionline.org