AWI's Safe Havens for Pets Mapping Project aims to provide an accurate listing of the nation's available safe havens for pets—i.e., sheltering services that assist individuals experiencing domestic violence in placing their companion animals out of harm's way so that they may seek safety for themselves. The project also seeks to strengthen communication among safe haven facilities and supporters to build a strong coalition and to conduct and disseminate research that will inform strategic decision-making by individual safe havens and their sponsors.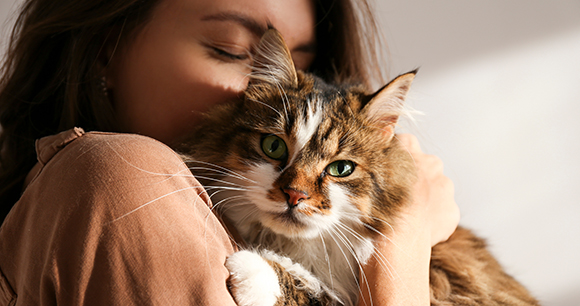 Safe havens come in various shapes and sizes, depending on the needs and resources of the local communities. Some rely on networks of foster care homes. Some use additional kennel space provided by a local humane society or veterinarian. In some cases, they are domestic violence shelters that are able to house victims and pets together.
Over 1,200 safe havens are listed in the AWI directory, and the Safe Havens for Pets team has contacted them all. In the process, we discovered unique, innovative, and ambitious efforts by groups working to meet their communities' needs related to domestic violence and pet safety. We would like to introduce a few of these entities: 
Pets come in a variety of shapes and sizes—and species. At Pigtopia—a nonprofit refuge in Memphis, Tennessee, for abandoned and neglected pigs—founder Anna Yancey recently announced plans to build "Amber's Refuge," a dedicated shelter to provide a temporary safe space for the pigs of domestic violence survivors. It is named in memory of Anna's close friend, Amber Dawn, who rescued and fostered hundreds of animals, including pigs. Amber lost her life to domestic violence in October 2020. 
Georgia's Ahimsa House is the nation's only statewide network of foster homes and boarding facilities for domestic violence victims with pets. The nonprofit organization was founded in 2004 by Emily Christie after she lost a pet to domestic violence. Ahimsa House provides veterinary services for abused pets; assistance in transporting pets (both in and out of Georgia); food, supplies, and payment of deposits in transitional housing; assistance in safety planning, and legal advocacy for including pets in protection orders. Since its inception, Ahimsa House has provided over 139,000 nights of safe, confidential shelter for pets in need.
In October 2021, BestyBnB launched as a for-profit "highly secure, technical platform designed specifically for domestic violence shelters" allowing them to select from a list of private caregivers who wish to foster the pets of individuals escaping abuse. Potential caregivers "must complete a detailed application, complete safety and training videos, and undergo comprehensive background checks," according to BestyBnB, and its platform supports domestic violence shelters with "zero prior animal-sheltering experience/capabilities" as well as those with established pet sheltering services that wish to expand capacity. 
If your group would like to start a safe haven for pets of domestic violence survivors, support the efforts of an existing safe haven, or simply know more about safe havens, visit safehavensforpets.org. Follow Safe Havens for Pets on Facebook, Twitter, and Instagram to see more of these shining examples through our Safe Haven Spotlight series.