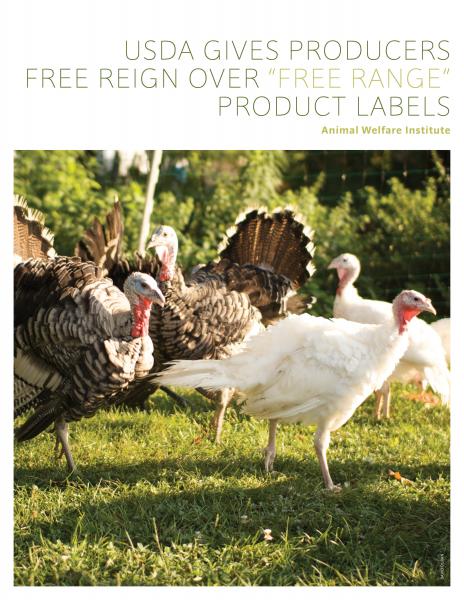 Washington, DC—As consumers hit supermarkets this month to prepare for holiday gatherings, the Animal Welfare Institute (AWI) today issued results from its investigation of approximately 90 brand-name poultry products. The results, presented in a report entitled USDA Gives Producers Free Reign over "Free Range" Product Labels, reveal that the approval process by the United States Department of Agriculture (USDA) for "free range" labels on poultry products is flawed—deceiving shoppers.
AWI's investigation found that the USDA requires little evidence for approval of the claims "free range" and "range grown." For example, the USDA approved use of the claims for 44 of the products investigated by AWI, when producers submitted only a short statement that birds have outdoor access. The USDA also approved the claim on 17 products without any evidence to support the claim.
In addition, the investigation showed that the USDA does not require producers to actually meet its vague definition of "free range," which is simply that birds "have been allowed access to the outside." According to the department, a producer can keep birds indoors for adverse weather or other reasons and still use the claim, so long as the package states how many days the bird had access to the outdoors. However, not one of the products investigated by AWI stated how many days birds were able to go outside.
"It is very likely that some of the 'free range' and 'range grown' turkey products being sold this holiday season came from birds that never stepped outside," said Michelle Pawliger, AWI's farm animal policy associate. "This is unacceptable; consumers should not be paying for animal welfare claims on food when such claims do not assure a better life for the animals."
AWI will be asking the department to ensure that the "free range" definition aligns with consumer expectations. The USDA can do this by requiring that birds be provided daily access to the outdoors for a majority of their lives, that the outdoor area have vegetation, and that the outdoor area is large enough to accommodate all birds. Additionally, the organization is encouraging the department to require photographic evidence of the "free range" conditions and a signed animal care protocol demonstrating compliance with the improved definition.
The investigation began in 2011, when AWI requested label approval files for brand-name poultry products from the USDA. However, the records were not received until earlier this year—after AWI sued the department for undue delay.
Click here to view the full report.
###
Media Contact
Amey Owen, 202-446-2128, amey@awionline.org