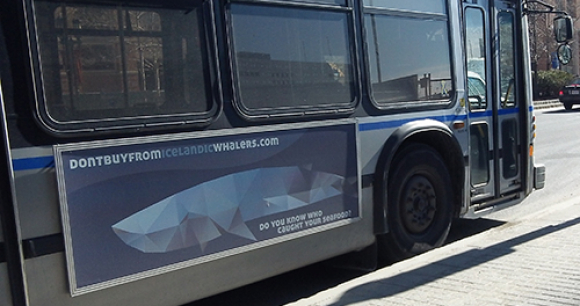 Washington DC—As the largest seafood trade event in North America—Seafood Expo North America—concludes in Boston, members of the Whales Need US (WNUS) coalition are pleased to announce that a leading North American seafood company, High Liner Foods, has committed not to purchase products sourced from Icelandic companies linked to whaling.
Prior to the Expo, the organizations wrote to dozens of major US wholesalers and retailers that source Icelandic seafood. The companies were urged to audit their supply chain in order to reassure the public that they are not buying fish from companies linked to whaling, in particular HB Grandi, Iceland's largest seafood company.
HB Grandi is controlled by the whaling and investment company Hvalur hf. which plans to kill 770 endangered fin whales over the next five years, and HB Grandi facilities have been used by Hvalur to cut, process and pack whale meat for export.
In addition to the correspondence, the coalition purchased advertising space on Boston's MBTA Silver Line—the subway and tram line that serves downtown Boston, the Convention Center and Logan International Airport. The ads, which will run for a month, feature an image of a whale and pose the question "Do you know who caught your seafood?" in an effort to inform the public that their seafood purchases may contribute to the killing of whales. The ads also include the website address "DontBuyFromIcelandicWhalers.com," which provides details of the Icelandic companies that hunt—or are linked to those that hunt—hundreds of whales a year in defiance of an international ban on commercial whaling.
High Liner Foods issued a statement as the expo opened stating that the company is not supportive of any commercial whaling or trade in whale products. High Liner has also committed not to enter into any new contracts with HB Grandi until that company has fully divested its involvement and interest in whaling. The full statement is available on the coalition website.
Susan Millward, executive director of the Animal Welfare Institute, welcomed the announcement by saying, "We applaud High Liner for its stance and for recognizing that its customers are very concerned about whaling. We hope High Liner will be joined by other US commercial seafood interests to show the whalers that their products are not welcome here."
Phil Kline, senior ocean campaigner for Greenpeace USA said, "This announcement by High Liner clearly shows that Iceland's fin whaling is bad for business. Americans love whales and will vote with their pocketbooks, a situation High Liner obviously understands."
Regina Asmutis-Silvia, executive director of Whale and Dolphin Conservation, North America stated, "We commend High Liner Foods for standing by their corporate Sustainable and Responsible Sourcing Commitment by acknowledging that whaling is neither sustainable or responsible."
Elizabeth Hogan, US oceans and wildlife campaign manager, World Society for the Protection of Animals said, "High Liner's commitment sends an important message to policymakers and other businesses that whaling should not be tolerated. We commend High Liner for taking this meaningful public stance and believe that their position demonstrates a high level of international support for ending the illegal hunting of whales."
Photos of the ad on the Boston subway line available upon request
Editor's notes
Iceland is one of only three nations that continue to engage in commercial whaling, in defiance of a moratorium imposed by the International Whaling Commission (IWC) in 1982. Iceland has increased its self-allocated whaling quotas in recent years and, in December 2013, announced a five year block quota that could result in the deaths of nearly 2,000 whales, including 770 endangered fin whales.
According to a 2012 poll by the Benenson Strategy Group, 86 percent of the American public believes that America has a moral obligation to protect endangered or threatened species, and 77 percent oppose commercial whaling. A further 66 percent of respondents said that they would be willing to stop buying products from companies engaged in commercial whaling.1
1 Benenson Strategy Group. (April 2012). Research on attitudes toward commercial whaling. Washington, DC: International Fund for Animal Welfare. The margin of error was ± 3.5% at the 95% confidence value.