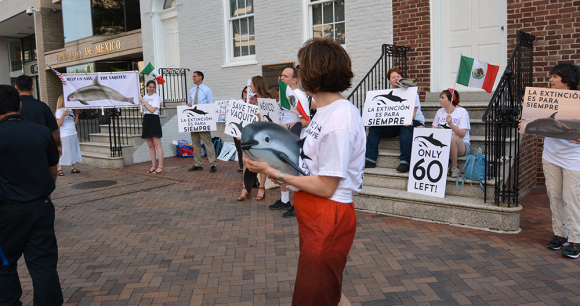 Demonstration Aligns with International Save the Vaquita Day
Washington, DC—Conservationists rallied outside the Mexican Embassy today to highlight the plight of the vaquita marina, the world's smallest and most endangered porpoise, found only in Mexico's Gulf of California. The species population has declined more than 90 percent since 1997 with only about 60 individuals left. To save the remaining individuals and the species at large, rally participants are calling on the Mexican government to make a 2015 ban on gillnets in the Gulf permanent and aggressively halt all illegal gillnet fishing, as enforcement has been lacking. The rally aligned closely with International Save the Vaquita Day 2016, to be observed on Saturday, July 9.
"To say we are desperate, with such few vaquita left, is an understatement," said Susan Millward, executive director of the Animal Welfare Institute, which helped organize the 2016 rally and a similar event in 2015. "Last year, when there were 80-100 animals left, we called for a permanent gillnet ban. The situation was dire then, but it's a lot worse now. Extinction for the vaquita is looming."
Fishing gear is the biggest threat to vaquitas, which often drown after becoming entangled in gillnets used to catch shrimp and fish—particularly illegal gillnets set for totoaba, a fish whose swim bladder is highly coveted in China. In April 2015, Mexico imposed a two-year ban on the use of gillnets within the vaquita's range and promised to step up enforcement in an effort to stem the species' decline. However, vaquita numbers continue to drop; a survey published in May by the International Committee for the Recovery of the Vaquita (CIRVA) estimated that only 60 vaquita remain. Even in the banned area, Mexico exempted gillnets for a fish called corvina—providing poachers a cover for continued totoaba fishing. Without permanent and fully enforced protections, experts predict the vaquita could be effectively extinct within the next few years.
"Vaquitas are a world treasure and their very survival is solely in the hands of the Mexican government," said Phil Kline, Greenpeace US senior oceans campaigner. "Extinction should NOT be an option."
"Despite Mexico's promise of increased enforcement, three vaquita were found dead this March—all due to entanglement in totoaba fishing gear," said Brett Hartl, endangered species policy director at the Center for Biological Diversity. "Current actions simply aren't enough. Mexico must firmly and finally halt its totoaba fishery and trade if the vaquita is to survive."
During the event, representatives from organizations behind the rally met with Ambassador Carlos Sada Solana to encourage Mexico to take more substantial actions to recover the species. During the meeting, the groups presented a letter to the ambassador calling for the gillnet ban to be made permanent and for enforcement efforts to be stepped up.
"There is a way to save the vaquita," said Zak Smith, senior attorney with the Natural Resources Defense Council's Marine Mammal Protection Project, "but it's going to take an all-out effort. Mexico needs to take responsibility to step up enforcement and protect every single vaquita – because every individual is vital to the species' survival."
Stated marine biologist Desray Reeb, Ph.D., "We know the problem, we know the solution, and what we need now is decisive action from the Mexican government."
###
Media Contact:   
Amey Owen, (202)-446-2128, amey@awionline.org
About the Animal Welfare Institute
The Animal Welfare Institute is a nonprofit charitable organization founded in 1951 and dedicated to reducing animal suffering caused by people. AWI engages policymakers, scientists, industry, and the public to achieve better treatment of animals everywhere—in the laboratory, on the farm, in commerce, at home, and in the wild. For more information, visit www.awionline.org.
About Greenpeace
Greenpeace is the leading independent campaigning organization that uses peaceful direct action and creative communication to expose global environmental problems and to promote solutions that are essential to a green and peaceful future. For more information, visit www.greenpeace.org.
About the Natural Resources Defense Council
The Natural Resources Defense Council (NRDC) is an international nonprofit environmental organization with more than 2 million members and online activists. Since 1970, our lawyers, scientists, and other environmental specialists have worked to protect the world's natural resources, public health, and the environment. NRDC has offices in New York City, Washington, D.C., Los Angeles, San Francisco, Chicago, Bozeman, MT, and Beijing. Visit usat www.nrdc.org and follow us on Twitter @NRDC.
About the Center for Biological Diversity
The Center for Biological Diversity is a national, nonprofit conservation organization with more than 1 million members and online activists dedicated to the protection of endangered species and wild places. For more information, visit www.biologicaldiversity.org