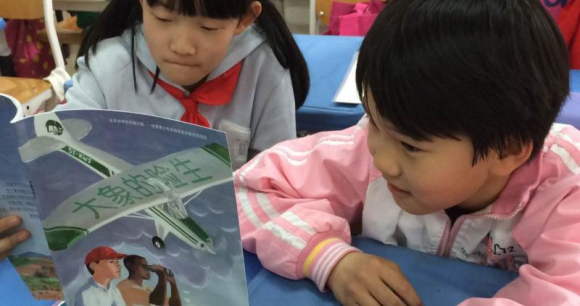 Chinese translation follows country's decision to ban domestic ivory trade before 2018
Washington, DC—The Animal Welfare Institute (AWI) and the Kenya Wildlife Service (KWS) announced today the publication of A Dangerous Life, their graphic novel on the global ivory trade and its deadly toll on elephants, in Chinese. The translation follows China's recent move to close a third of its ivory carving factories and retailers. China is currently the world's largest ivory market, and this closure represents a major step toward the country's pledged shutdown of its domestic ivory trade by the end of 2017.
Nearly 10,000 copies of the translated graphic novel have been distributed to schools throughout China, including those in Beijing, Shanghai, Guangzhou, Shenzhen, and Nanjing. Through translation and distribution of the book, AWI and KWS aim to spread awareness and education among Chinese youth about the importance of banning ivory sales to protect elephants from poaching.
"China has taken a monumental step for wildlife by committing to closing its domestic ivory trade," said Cathy Liss, president of AWI. "The long-term survival of elephants rests with the next generation, and education about the significance of these animals is critical. We are pleased to share this powerful story with children around the globe and hope it will be enjoyed and embraced by pupils in China."
A Dangerous Life, published by AWI and KWS, is written and illustrated by Sheila Hamanaka. Aimed at middle school–aged readers, the graphic novel tells the story of Amelia, a teen girl from America whose family made a fortune in the early 20th century from elephant ivory. Amelia takes a trip to Africa, where she encounters wild elephants and witnesses first-hand the terrible price of ivory. Amelia and the Chinese and Kenyan teens she befriends on her trip vow to save elephants and educate people about ivory and why they should not purchase it.
"KWS is very pleased that this book is being published in Chinese and circulated into the classrooms of schools in major Chinese cities," said Kitili Mbathi, director general of KWS. "The book helps to educate young people about ivory, and thereby helps to guarantee the future of the elephants for generations to come. Protecting elephants has become a global responsibility, and KWS is enthusiastic to join with partners from China and America to fulfill this important responsibility."
The graphic novel offers steps that readers can take to further protect elephants, including never buying, wearing or selling ivory, and supporting a worldwide ban on ivory sales. Facts about elephants and their unique qualities are also included at the end of the text.
"Today, elephants are struggling to survive and facing death threats from cruel poachers," said Xu Haifeng of Foreign Language Teaching and Research Press, which facilitated the Chinese translation, printed the book, and will be distributing it to the schools. "This book is designed to educate children about the hidden evil in ivory and the dangerous life of the elephants, guide them to stand rock firm against ivory, and strengthen their awareness of protecting the elephants and maintaining ecological security."
Limited complimentary copies of A Dangerous Life in Chinese are available for teachers and libraries via AWI's website. Copies of A Dangerous Life printed in English can also be purchased online (or provided free for teachers and libraries).
###
Media Contact:
Amey Owen, (202) 446-2128, amey@awionline.org
About A Dangerous Life
A Dangerous Life is a graphic novel, aimed at middle school–aged readers, about an American teen's trip to Africa and her discovery of the terrible price elephants pay because of the global ivory trade. The novel, published by the Animal Welfare Institute and the Kenya Wildlife Service, is written and illustrated by Sheila Hamanaka. For more information about A Dangerous Life, see the summer 2014 AWI Quarterly article.
About the Animal Welfare Institute
The Animal Welfare Institute (www.awionline.org) is a nonprofit charitable organization founded in 1951 and dedicated to reducing animal suffering caused by people. AWI engages policymakers, scientists, industry, and the public to achieve better treatment of animals everywhere – in the laboratory, on the farm, in commerce, at home, and in the wild. For more information, visit www.awionline.org.
About the Kenya Wildlife Service
The Kenya Wildlife Service is a state corporation that conserves and manages Kenya's wildlife for the Kenyan people and the world. KWS manages Kenya's dozens of national parks, reserves, sanctuaries, marine parks, and marine reserves. KWS also oversees wildlife conservation and management outside national protected areas, conducts conservation education and training, undertakes wildlife research, and provides input into national and international wildlife-related law and policy. KWS rangers defend the country's wildlife against poaching and the illegal bush wildlife trade. For more information, visit http://www.kws.go.ke.