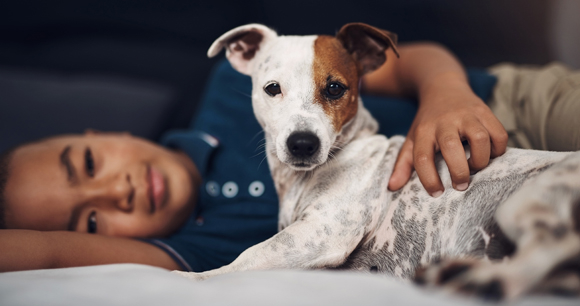 On December 20, 2018, the provisions of the Pet and Women Safety (PAWS) Act were signed into law as part of the 2018 Farm Bill. The PAWS Act establishes a grant program for entities that provide shelter and housing assistance for domestic violence survivors to enable them to better meet the housing needs of survivors with pets. The new law also takes the important step of including pets, service and emotional support animals, and horses in federal law pertaining to interstate stalking, protection order violations, and restitution. These provisions provide law enforcement with additional tools for protecting victims from their abusers.
According to the 2021 National Pet Owners Survey, 70 percent of all US households—129.93 million homes—include a companion animal. In most cases these companions are cherished members of the family. When there is violence in the home, however, it can be directed at the pets as well as at the partners and children who live there. Pet abuse is one of the forms of intimidation listed in the "power and control wheel" used by advocates for victims of domestic violence. (The power and control wheel—which has been translated into 40 languages—was developed based on the experiences of battered women. The wheel identifies and categorizes the typical actions a perpetrator uses against his or her victim.)
In surveys of women in domestic violence shelters who had pets, roughly half report their pets were abused as well.
In the past 20 years, many programs and policies have arisen in reaction to this overlap between domestic violence and animal abuse. Communities throughout the United States are organizing safe havens for pets. In addition to these safe havens, 37 states, the District of Columbia, and Puerto Rico now have laws that permit the inclusion of pets on protection orders. Another demonstration of the close association between animal abuse and family violence is the development of safety planning for pets and the growing practice at domestic violence shelters ask questions at intake about pets who might need protection.
Children in the home are also targets of physical, emotional, and sexual abuse as well as the animals and other family members living there. Children who have been maltreated or have witnessed violence, are more likely to abuse animals. Click here for a PDF version of A Common Bond: Maltreated Children and Animals in the Home, a booklet containing guidelines for human service personnel in dealing with pets, domestic violence, and children. Click here for questions to ask children about their experience with animals. If they have witnessed animal abuse or other forms of family violence, click here for suggestions on what to look for. Finally, for child protection workers, click here for signs of animal neglect and abuse.
AWI actively pursues partnerships with other organizations to offer resources, programs, and policies that address the important relationship between animal cruelty and family violence. We work collaboratively with other groups that address interpersonal violence, including the Association of Prosecuting Attorneys, the National Council of Juvenile and Family Court Judges, the National Network to End Domestic Violence, the National Resource Center on Domestic Violence, the National Coalition Against Domestic Violence, and the National Domestic Violence Hotline.  
Click here for a PDF version of "Protecting Domestic Violence Victims by Protecting Their Pets," an article featured in Juvenile & Family Justice Today, a publication of the National Council of Juvenile and Family Court Judges. Since the publication of this article, the number of states with laws allowing courts to provide for companion animals in orders of protection has increased to 36 (along with the District of Columbia and Puerto Rico). Click here for a list of current state laws that address pets in protection orders. Click here for state manuals that help attorneys and advocates for domestic violence victims to include companion animals on protection orders.