During the 68th meeting of the International Whaling Commission, AWI awarded the Schweitzer Medal to Jennifer Lonsdale in recognition of her outstanding achievements in the advancement of animal welfare. IWC chair Andrej Bibič presented the medal.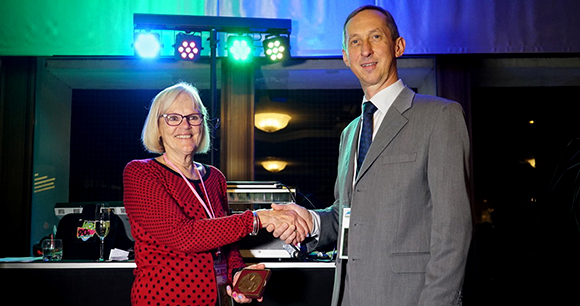 Lonsdale has been a fierce ocean advocate for nearly four decades. In the early 1980s, she set sail on an old North Sea fishing trawler with Greenpeace colleagues Allan Thornton and Dave Currey to obtain the first-ever documentation of Norway's whale hunt, garnering international attention. The following year, Lonsdale documented the Faroe Islands' pilot whale hunt, collecting images of the gruesome spectacle that shocked the world. 
In 1984, with support from AWI founder Christine Stevens, Lonsdale, Thornton, and Currey co-founded the Environmental Investigation Agency (EIA) to investigate and campaign against environmental crime and abuse. As an EIA director and oceans campaigner, Lonsdale worked to address threats to marine life such as climate change, pollution, and entanglement in fishing gear. At the IWC, her advocacy for protection of whales, dolphins, and porpoises helped ensure that cetacean welfare became a core focus of the organization. 
In 2016, Lonsdale was appointed an Officer of the Order of the British Empire (OBE) in recognition of her environmental advocacy. This year, she retires from EIA, but leaves behind an unparalleled legacy. She called receiving the Schweitzer Medal "particularly precious" because "Christine Stevens was a mentor to me for many years." Certainly, in subsequent years, Lonsdale paid that forward to many, many people, including several at AWI, as evidenced by AWI wildlife biologist DJ Schubert's description of her at the award ceremony as "a rock, a role model, and mentor… as well as a friend."