by Megan R. LaFollette, Sylvie Cloutier, Colleen M. Brady, Marguerite E. O'Haire, and Brianna N. Gaskill
A new study (LaFollette et al. 2020. Animals 10(8): 1435), supported by a grant from AWI, shows that implementation of a particular animal welfare-enhancing technique can be improved through targeted training.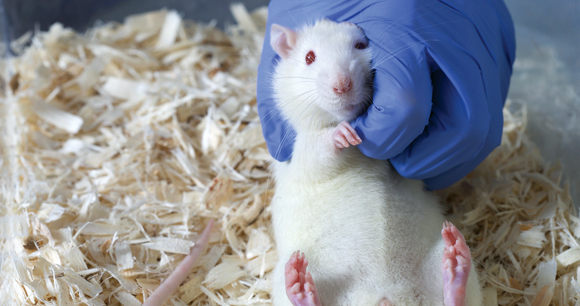 "Rat tickling" is a technique of interacting with rats in a way that mimics aspects of rat rough-and-tumble play. Engaging in rat tickling can reduce fear and stress in rats handled by humans. Despite the well-documented benefits of rat tickling, the technique is rarely implemented (55% of personnel never use it and most do not use it regularly). In a previous survey (LaFollette et al. 2019. PLOS ONE 14(8): e0220580), which was also supported by AWI, laboratory animal personnel indicated a lack of training as a barrier to its implementation. Therefore, the objective of this study was to determine the effectiveness of two rat tickling training programs (as compared to a control treatment) on reported rat tickling implementation, self-efficacy, knowledge, familiarity, and beliefs.
Laboratory animal personnel currently working with rats in the United States were recruited to participate in the study. After completing an initial survey, 96 individuals received either online-only training, online plus hands-on training, or no training (waitlist control condition). Both training groups completed a 30-minute, online, interactive, visual training course in rat tickling. The hands-on training group received an additional 30-minute, in-person training session specifically reviewing the hands-on components of the technique. Participants received a survey directly after their assigned training (or a waitlist control waiting period) and a follow-up survey two months later. In each survey, participants answered questions related to their rat tickling implementation, self-efficacy, knowledge, familiarity, and beliefs.
Results showed that both online-only and online plus hands-on training improved key outcomes for rat tickling (i.e., increased implementation, self-efficacy, knowledge, familiarity, and beliefs with rat tickling) compared to no training. Online plus hands-on training, however, had a few additional benefits (i.e., increased control beliefs and greater increases for self-efficacy and familiarity with rat tickling).
Overall, these findings support the development of targeted interactive training programs to improve the implementation of potential welfare-enhancing techniques. While hands-on training may offer additional benefits, the online platform alone was also effective. This finding is encouraging, since the online platform can reach a widespread group of people and does not require resources for travel or attendance at an in-person workshop. The online course used in this study can be found at bit.ly/RatTicklingCertificate and is now open to anyone interested in receiving a certificate in rat tickling.  
Megan R. LaFollette is a 3Rs fellow at the North American 3Rs Collaborative. Dr. Sylvie Cloutier is an independent scientist in Ottawa, Canada. Dr. Colleen M. Brady is a professor of agricultural sciences at Purdue University. Dr. Marguerite E. O'Haire is an associate professor of human-animal interaction at Purdue. At the time this study was published in the journal Animals, Dr. Brianna Gaskill was an associate professor of animal science at Purdue focused on welfare assessment of laboratory animals.
---
This study was funded by the AWI Refinement Grant program. To learn more about this program or to view additional studies, click here.