1960–2023
David Kirby, an award-winning investigative journalist, died on April 16 at the age of 62, after a series of health setbacks that began in late January after a fall. 
David had been active in the AIDS community in the 1990s, working closely with actress Elizabeth Taylor as the press secretary for the American Foundation for AIDS Research, which Taylor co-founded. In subsequent years, he authored four nonfiction books—Evidence of Harm, Animal Factory, When They Come for You, and Death at SeaWorld—as well as a comedic novel, Upper East Bride. In Death at SeaWorld (2012), David focused on the dark side of life in captivity for orcas at SeaWorld and prominently featured the work of AWI marine mammal scientist Dr. Naomi A. Rose.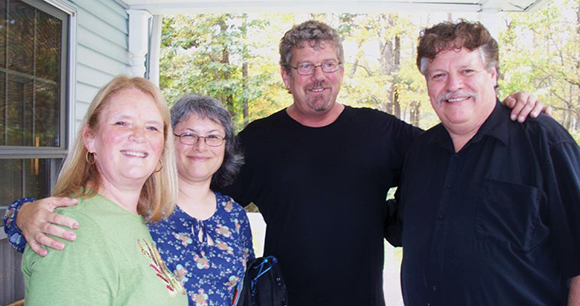 In March 2010, David was sitting in the green room at CNN, waiting to go on a program to discuss the just-published Animal Factory, when he heard that an orca named Tilikum had killed SeaWorld trainer Dawn Brancheau. As he looked into the incident and into issues of orca captivity, Naomi's name kept popping up. He cold-called her that October, and from there, he and Naomi formed a strong relationship—part friendship, part colleague—that continued through the years. Together, they traveled to British Columbia, Canada, to see where she had studied the northern resident orcas years before. He stayed at her home in July 2011 as he combed through her files. In September and November 2011, they attended the nine-day hearing when SeaWorld challenged the Department of Labor citation for Brancheau's death. They were in almost daily contact throughout 2011 and 2012, until Death at SeaWorld went off to the printer, and were together at the New York book launch in July 2012 and at subsequent book signings across the country. 
David was a clear-sighted writer with a keen ear for narrative, endlessly curious about a wide range of topics. He was whip-smart, witty, and infectiously engaged with life. He had his down moments—there were certainly times when, as a freelance writer, he didn't know where the next job was coming from—but mostly he was always looking forward, to the next journalistic piece, the next book, the next adventure (he and his partner, Carlos, traveled the world, as lightly as two people could possibly travel, often with no more than a day pack of "stuff"). He was an avid gardener, and everywhere he and Carlos lived (they were seasoned house flippers), they constructed the most beautiful botanical spaces, including in Kerhonkson, New York, where they fixed up a cottage and its surrounding buildings to make their summer home, and in Puebla, Mexico, where they bought and renovated a fantastic historic house as their winter home. David also loved his two dogs, Wilson and Dugui, fiercely. 
After Death at SeaWorld was published, David continued to write for a few years about captive cetaceans, consulting often with Naomi. Eventually, Death at SeaWorld was optioned for television, which made David giddy as he reviewed the scripts and obsessed over who would play this or that character, including Naomi. 
David was extremely happy in his final years, and it is a solace that he left this world on such a high note. The outpouring of grief from his wider community—those who read his books, knew him personally, and cared deeply about this lovely man—has been overwhelming.
Farewell, and rest in peace, David.