AWI is partnering with Consciously, a public benefit company, and the ASPCA's Shop With Your Heart program on a new internet browser extension (add-on) that will help consumers select higher-welfare and plant-based alternatives while they shop. The extension will help online shoppers choose products that promote AWI's goal of supporting higher-welfare family farms and abolishing factory farms.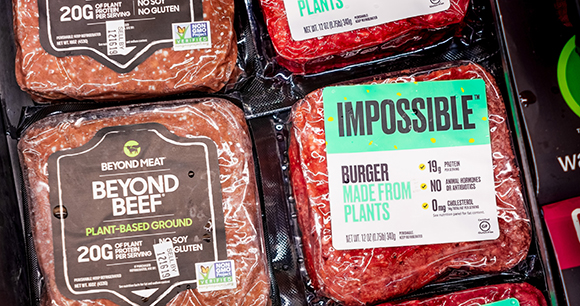 With the extension added to their browser, shoppers visiting a food product page will see a small box in the corner of the browser that recommends two higher-welfare and two plant-based alternatives. The higher-welfare alternatives suggested by the Consciously extension are generated from the ASPCA's Shop With Your Heart product directory, which is consistent with the recommendations of AWI's A Consumer's Guide to Food Labels and Animal Welfare. All recommended products are verified by one of the following third-party food certification programs: Certified Animal Welfare Approved by AGW, Certified Humane, and the Global Animal Partnership (Step 2 and higher). The Consciously extension is currently available for shoppers on Whole Foods and Amazon websites, but will eventually be expanded to other major online food retailers. 
Most animal products sold in American grocery stores come from producers that maximize profits by treating animals not as sentient creatures, but as production units. Unfortunately, compassionate consumers who want to find higher-welfare options are confronted with a dizzying number of "self-made" food label claims. These claims are touted by companies purely for marketing purposes, with no independent verification process and, more often than not, no basis in reality. Conditions for these animals are usually nothing like the bucolic images conjured up by corporate farming operations to advertise their products.
AWI's collaboration with Consciously provides one solution to this problem by helping consumers make food choices that alleviate animal suffering rather than perpetuate cruelty. Learn more and download the extension by searching for "Consciously: Conscious Shopping Assistant" in your internet browser's add-on store.