At least 20 ships carrying hundreds of thousands of animals were stalled in and around the Suez Canal for several days this March when the Ever Given (one of the world's largest cargo ships) ran aground and wedged itself diagonally across the canal, blocking all traffic. Transport of live animals can be precarious—especially when they are being transported great distances on ships, which must carry all necessary supplies and food to support them. When it became clear that the Ever Given would be stuck in the canal for some time, concerns quickly grew about the welfare of the animals on vessels unable to pass through.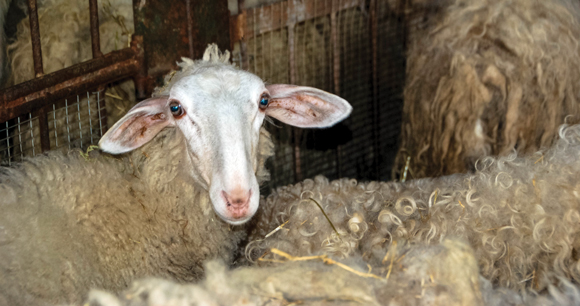 Although many countries have enacted regulations to establish minimum welfare criteria for animals on sea vessels, myriad conditions remain that can negatively affect the animals' welfare. Livestock on board vessels face extreme confinement, heat and cold stress, lack of fresh air, and prolonged journeys, all of which increase rates of disease, suffering, and death.
A reported 13 of the livestock-carrying ships—carrying some 130,000 sheep—departed from Romania. While EU regulations require carriers transporting animals to hold 25 percent more food than necessary for a voyage in case of delay, supplies can be depleted quickly. One of the Romanian ships, for example, reportedly departed on March 16 with a scheduled arrival in Jordan on March 23. The blockage delayed the ship's arrival to April 1 or later. With 25 percent additional supplies, the sheep would have been subject to food shortages on day two of this minimum nine-day delay. 
In another recent incident, Spanish officials in late February ordered the euthanasia of more than 850 calves who were suffering in poor conditions after spending two months adrift in the Mediterranean Sea due to suspected disease.
Calls for the ban of live animal transport overseas have been made for many years, especially after major disasters like these. Proponents of banning live animals on cargo ships argue that scientific advancements in artificial insemination, refrigeration, and air transport render sending animals via sea vessel an unnecessary risk. 
Heeding cries to end this cruel practice, New Zealand recently announced a ban—effective 2023—on the export of live cattle by sea due to animal welfare considerations. Last year, the country temporarily suspended such exports after a massive accident resulted in the death of 5,800 cattle and 40 crew members. The United Kingdom says it will soon ban live animal exports for slaughter and fattening. In Australia (the world's largest exporter of live animals for slaughter), reforms have been instituted to improve the welfare of animals at sea (including a ban on shipments to the Middle East during northern summer months), but no permanent ban has been enacted.
It is unknown exactly how many animals suffered and died due to the Suez Canal disaster, but it seems that despite the danger, live animal export is likely to continue at a high volume so long as it remains profitable. In recognition of this sad reality, AWI monitors animal exports from the United States and seeks reforms to improve the welfare of animals condemned to this fate—even as we continue to advocate a total ban on the practice.