The nesting season of sea turtles has begun in the Northern Hemisphere. During this time, mother turtles digging nests in the sand are often disturbed by human beachgoers. Newborn hatchlings face similar disturbance when returning to the sea. However, this year has seen elevated numbers of nests as COVID-19 restrictions have kept people away from beaches.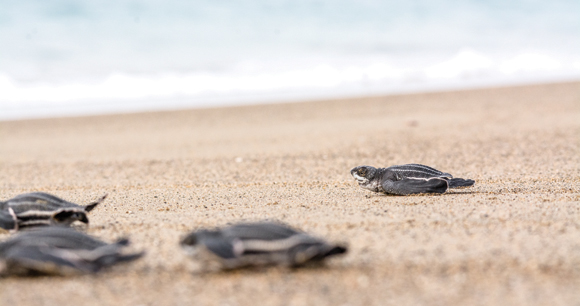 In Florida, where the nesting season runs from March through October, researchers have documented more nests at sites such as Juno Beach, a few miles north of West Palm Beach. According to the Loggerhead Marinelife Center, as of May 8 there were 728 turtle nests, with 591 of them loggerhead nests and the remaining 137 from the more vulnerable leatherbacks. Other southern states, such as Georgia and Texas, have also experienced a boom in sea turtle nesting this year. 
Nesting sites in Brazil, Thailand, and India have seen similar results. In Brazil, around 100 hatchlings of the critically endangered hawksbill sea turtle were discovered in a single day in late March. Thailand has reported the highest number of leatherback nests in nearly two decades.
Human activities have long been an obstacle for sea turtles' breeding and survival. Turtles mating in shallow near-shore waters are killed and injured by boats, while human activity on beaches makes it difficult for turtles to find good nesting locations. Artificial light disorients baby turtles as they attempt to make their way to the sea. 
This year's early nesting numbers are promising, but it is still too early to determine the true impact of the temporary human hiatus on sea turtles. As more and more jurisdictions lift the stay-at-home orders and beaches are reopened, sea turtles yet to hatch may face the usual disturbances as they head for the sea.