AWI filed challenges before the Federal Trade Commission in February against Boar's Head over the company's claim its chicken sausage and Simplicity All Natural turkey products derive from animals who are "humanely raised." There is no evidence, in fact, that Boar's Head—a billion-dollar deli products company based in Sarasota, Florida—exceeds minimum industry standards in raising these animals. AWI is requesting, therefore, that the FTC prevent Boar's Head from engaging in marketing designed to create the false impression that the chickens and turkeys in Boar's Head facilities are better off than birds in any other industrial facility.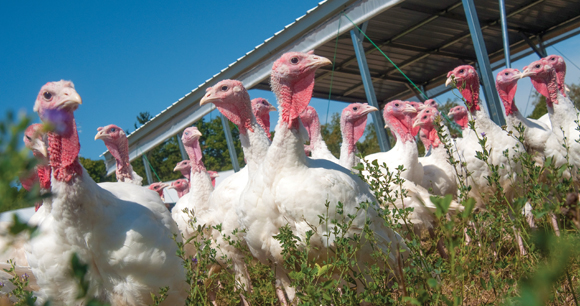 For nearly a decade, AWI has been monitoring animal welfare claims on food packages to determine whether they are truthful. When producers make misleading animal-raising claims, it deceives consumers who seek higher-welfare alternatives. It undercuts farmers who actually do raise their animals to a higher standard and should receive a marketplace advantage for doing so. And it harms the animals who continue to suffer under poor conditions even as the producer misrepresents to the public that they are being treated humanely. 
AWI's challenge represents the first time the FTC has been presented with on-farm animal care audits as evidence against the use of such an animal welfare claim. Boar's Head bases its "humanely raised" claim on the fact that it submits to industry audits conducted by the National Turkey Federation (NTF) for its turkey products and by Farm Animal Care Training and Auditing (FACTA) for its chicken products. (The FACTA audit is based on animal care guidelines established by the National Chicken Council.) But these audits merely confirm that the company follows established industry practices—which fall far short of scientifically established standards for the humane treatment of farm animals. 
Such audits are not comparable to independent animal welfare certification programs. The National Advertising Division (NAD) of BBB National Programs, in fact, has cautioned against relying on industry audits to support similar animal-raising claims. In 2019, following a successful AWI challenge, the NAD recommended that Hatfield Quality Meats and its parent company, Clemens Food Group, discontinue the claim "ethically raised by family farmers committed to a higher standard of care, governed by third party animal audits" on product packaging for Hatfield pork products. AWI had argued that consumers perceived the claim to mean that Hatfield's animals receive better treatment than animals raised in conventional industrial facilities—a perception that Hatfield could not substantiate.
 
AWI's most recent survey of consumer perceptions found that 84 percent of consumers agree that the claim "humanely raised" should only be used by producers that exceed minimum industry animal care standards. Three prior surveys commissioned by AWI within the past decade have found the same. Consumers indicate that the cruel practices used on factory farms, such as breeding for rapid growth, intensive confinement of animals in barren environments, and near-constant low-level lighting do not qualify as humane. Such practices are permissible, however, under FACTA and NTF audit guidelines.
The FACTA and NTF audits do not even require 100 percent compliance, and they put little emphasis on essential welfare standards such as environmental enrichment, adequate lighting, and low pre-slaughter mortality rates. The FACTA audit is also designed so that producers can easily manipulate or challenge standards that could be difficult to meet. For instance, in one on-farm audit that AWI reviewed, a producer successfully challenged a lighting standard by producing a study purporting to show that lower light levels do not negatively affect chicken welfare. Another examination revealed that the audit was conducted while the birds were young so that their smaller size would not result in a nonconformance relating to stocking density. 
In contrast, independent animal welfare certification programs such as Certified Animal Welfare Approved and Certified Humane generally require adherence to higher standards of care in order to justify humane raising claims that may merit charging premium prices. Processors that are allowed to base such claims on bare-minimum industry audits, therefore, undercut higher-welfare farmers while avoiding pressure to improve their animal care practices. 
Unfortunately, consumers are bombarded with bogus animal welfare claims on meat products, according to AWI research. A 2019 report by AWI, Label Confusion 2.0: How the USDA Allows Producers to Use "Humane" and "Sustainable" Claims on Meat Packages and Deceive Consumers, found that the US Department of Agriculture continues to allow producers to make deceptive animal welfare and environmental stewardship claims. This report analyzed a selection of the USDA's label approval files for meat and poultry products and found that half of claims found on meat and poultry products lacked substantiation. When producers did submit documentation, it did not provide the level of detail necessary to determine whether that producer actually elevated the standard of care for its animals. 
The "humanely raised" claim found on these Boar's Head products epitomizes the problems with the USDA's label approval program. The USDA approved the use of the claim "humanely raised" despite the fact that Boar's Head provided no substantiation that it actually improved the standard of care it provided to its chickens and turkeys.
The USDA's failures enable producers to continue using misleading label claims in the marketplace. The department has thus far dodged AWI's efforts to persuade it to stop this practice. In 2014, AWI petitioned the USDA to amend its labeling regulations to require third-party certification of animal welfare and environmental stewardship claims. The USDA ignored the petition for four years. After AWI sued the department for failing to respond, it finally did—by rejecting the petition. 
The USDA's complacency has forced AWI to pursue other avenues to combat misleading advertising practices, such as bringing the most recent case before the FTC. As summarized below, AWI and other animal protection organizations have brought several challenges before the FTC and NAD to end deceptive advertisements, with mostly positive outcomes. In the present case, AWI is hopeful that the FTC will see through the deceptive practices of Boar's Head and stop it from making misleading claims about its chicken and turkey products. 
Case Studies: FTC Challenges to Advertising Claims 
Chicken
Pilgrim's Pride: Action filed in 2019 challenged the claims "100% natural" and "humanely raised," among others on the Pilgrim's Pride website. Pilgrim's Pride subsequently removed these claims (although its representatives asserted that it was not in response to the complaint).
Foster Farms: Action filed in 2015 challenged Foster Farms' use of the "American Humane Certified" label after an undercover investigation revealed abuse at one of its farms. The FTC chose not to recommend enforcement action because Foster Farms took internal action against the supplier accused of abuse.
Allen Family Foods: In 2011, AWI brought a National Advertising Division (NAD) challenge against Allen Family Foods for its use of the claim "humanely raised" on its chicken packaging. (The NAD is a division of BBB National Programs.) Allen Family Foods entered bankruptcy shortly after the challenge was filed. In closing the case, the NAD remarked that removal of the claim was "necessary and appropriate." Allen Family Foods was purchased by Harim Foods, and renamed Allen Harim Foods. Despite the NAD's statement, Allen Harim continued using the claim on its product packaging, forcing AWI to request that the case be referred to the FTC. In 2014, the FTC notified the NAD that Allen Harim had agreed to participate in the NAD inquiry. Ultimately, the company removed the claim and became third-party certified for animal welfare. 
Pork and Other Meat
Tyson Foods: Action filed in 2013 about statements Tyson Foods made in promotional videos and on its website that put a false spin on its conventional beef, pork, and chicken products (e.g., "leading the industry pursuit ... to enhance animal wellbeing"). The FTC reviewed submissions from Tyson and accepted its decision to remove the promotional videos from YouTube and clarify its position on pig gestation crates. 
Seaboard Foods: Action filed in 2012 about the company's claims on its website that it used "best industry practices" and that its pork products came from pigs who were "free from cruelty" and were raised via "the most humane practices throughout the animal's life." Several other claims were challenged as well. The action was settled when Seaboard Foods agreed to remove the "most humane" claim from its website.
Eggs
Sparboe Farms: Action filed in 2011 disputing claims on Sparboe Farms' website and advertisements that its hens are provided "five essential freedoms." The FTC determined no action was needed because the company removed the claims from its website.
United Egg Producers (UEP): Action filed in 2005 against the organization's label "Animal Care Certified," which was used on conventional egg product labels. While the FTC did not issue a formal decision, it encouraged UEP to change labels after the NAD recommended this action. UEP changed the label to read "United Egg Producers Certified."