US Fish and Wildlife Service officials seized 18 boxes of dried shark fins at PortMiami in late January. The shipment, estimated to be worth up to $1 million, was believed to have originated in South America and was en route to the Far East, to be turned into shark fin soup and other products.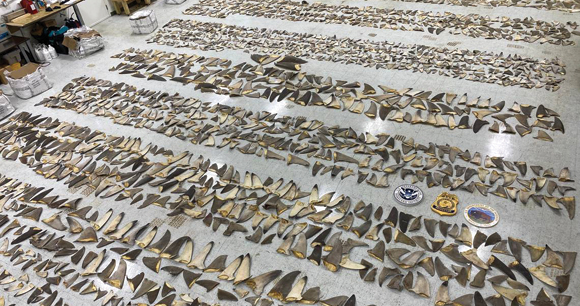 Shark finning is cruel. Animals are captured, finned—usually while still alive—and then tossed overboard to slowly and painfully die. The fin trade is also responsible for an estimated 73 million shark deaths per year, which is devastating global shark populations and marine ecosystems. 
While many US states ban the possession and/or sale of shark fins, Florida currently does not. In this case however, the shipment contained fins from protected species, so law enforcement authorities were able to make the seizure after the fins were sampled and tested. A bill to ban shark fin imports has passed the Florida legislature and is now awaiting signature by Governor DeSantis. AWI is advocating for its passage. 
Texas, meanwhile, does have a shark fin trade ban, in place since 2016. Since the ban came into force, AWI has routinely provided Texas officials with information on restaurants in the state that continue to serve shark fin. Recently, a tip from AWI prompted Texas officials to investigate, resulting in the conviction of at least one restaurant owner and the still-ongoing prosecution of several other Texas establishments. 
AWI is currently conducting its annual audit of restaurants serving shark fin, including in states where there is a ban, and we will continue to provide law enforcement officials with information on restaurants ignoring such bans.