In 2018, Proposition 12 passed in California with 63 percent of the vote. It mandated minimum floor space for egg-laying hens, calves raised for veal, and breeding sows and their piglets in California and prohibited the sale of eggs, veal, and whole pork meat (uncooked cuts of pork) from animals housed in below-minimum spaces, regardless of location. With little in-state pork production, Californians rely on producers outside of the state to produce compliant products.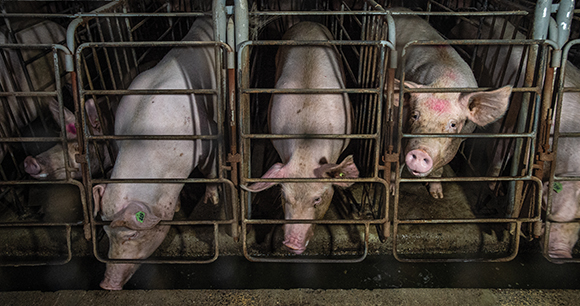 In October 2022, the National Pork Producers Council (NPPC) challenged the law before the US Supreme Court, arguing that the law violated the "dormant Commerce Clause"—a doctrine the courts have inferred from the Constitution's Commerce Clause that prohibits states discriminating against or placing an undue burden on interstate commerce (for instance, by enacting protectionist laws aimed at giving in-state producers an advantage over out-of-state producers of consumer goods). The NPPC argued that California was dictating production practices outside of its borders and impermissibly burdening commerce among states.
In May 2023, all nine justices rejected the NPPC's assertion that the sales ban is unconstitutional merely because it has indirect effects on out-of-state producers. In the controlling opinion, five justices concluded that Prop 12 did not unconstitutionally discriminate against out-of-state producers, because the restriction applied equally to all sources of pork, regardless of its state of origin.
Prior to the Supreme Court ruling, the California Department of Food and Agriculture (CDFA) finalized Prop 12 regulations that require producers to prove compliance with an annual on-site inspection by an accredited certifying agent. Distributors of covered products are required to register with the CDFA and provide a certificate of compliance for their supplying producers. However, the CDFA was enjoined from enforcing the regulations applicable to whole pork meat until the court finalized its decision. Now, distributors and producers of pork are allowed to "self-certify" until January 1, 2024, when the requirements of Prop 12 go into full effect.