After four decades in the fight to end commercial whaling worldwide, Kate O'Connell, senior policy consultant for AWI's Marine Life program, is on a first-name basis with virtually every major player impacting the cetacean protection movement. Friend or foe, they can't help but like her. She has been known to berate fishing industry representatives in Spanish before asking how their children are doing. "I try not to dehumanize them," Kate says of her opponents. "Everybody has something that's important to them and you need to respect that even though you don't agree with it—I'm working hard to change minds."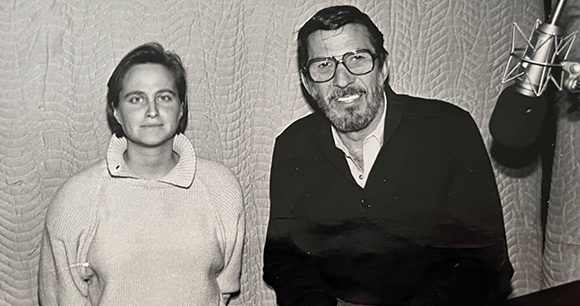 "She's the most brilliant person I've ever worked with," says AWI senior policy advisor Sue Fisher, who has collaborated with Kate for a quarter-century. "She draws people in and draws stuff out of them. To have that analytical brain and those interpersonal skills—it's a dangerous combination (in a good way)."
A Bolt from the Blue
Kate grew up in Connecticut and spent summers on Long Island Sound, where her grandfather worked as a lighthouse keeper and lobsterman. As a child, she enjoyed watching "The Undersea World of Jacques Cousteau." She joined the burgeoning Save the Whales movement as a teenager, and took her first whale-watching tour out of Provincetown, Massachusetts. On that trip, a bolt from the blue—the dark, glistening head and back of a humpback whale—broke the surface of the water. Kate was in awe of her sheer size. "It's the sense of wonder that they bring to you, and it kind of puts you in your place as a human," she would reflect later. 
By age 21, Kate had joined the board of what is now Cetacean Society International (CSI). Two years later, she attended her first International Whaling Commission (IWC) meeting in Buenos Aires and soon after that met AWI founder Christine Stevens—whom she remembers as passionate, gracious, and unyielding in her commitment to animal protection. 
Kate studied languages (she can speed-read at least seven) and international relations, including at Cambridge University, yet she took her first job working across Latin America to help train young researchers in nonlethal whale research methods for the Long Term Research Institute (LTRI; now called Ocean Alliance), led by Dr. Roger Payne. (Payne, famous for his 1967 discovery of humpback whale songs, died in June.) At LTRI, she helped draft the Specially Protected Areas and Wildlife (SPAW) Protocol—a key regional agreement administered by the UN Environment Programme—and helped develop the protocol's protected species lists. 
She also met her idol, actor Leonard Nimoy, during promotion of Star Trek IV: The Voyage Home. LTRI served as an advisor on the film, and Kate was involved in the subsequent Whales Alive album, featuring Nimoy reading passages from Moby Dick and Paul Winter on soprano sax, accompanied by humpback songs. Kate has also been tapped as an expert in a half dozen documentaries focused on protecting Amazon river dolphins, minke whales, and other marine mammals. 
Once, Kate and her colleagues, working with local fishers in Sri Lanka to limit bycatch of nontargeted marine life, piled into a sailboat to escape an escalating civil war. While traveling from Trincomalee to the capital of Colombo, what Kate initially mistook for flying fish were instead bullets chopping the water. One lodged in her colleague's camera bag, but the group was otherwise unharmed.
At AWI
Kate began consulting for AWI in 2011 and appreciates the organization's methodical, science-based approach to reducing animal suffering. Diligence in support of that approach is where Kate thrives—flying under the radar, tracking tax returns, shareholder documents, municipal whaling permits, and arcane trade databases in several languages to identify financial webs that harm endangered and threatened wildlife.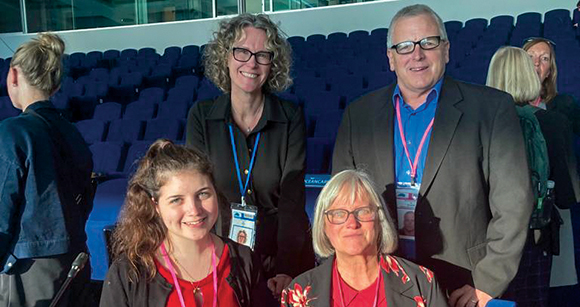 From 2011 to 2014, as part of a joint investigation by AWI, the Environmental Investigation Agency, and Whale and Dolphin Conservation, Kate followed the money (and blood) trail of trucks carrying fin whale meat across Iceland to fish processing and storage facilities linked to seafood giant HB Grandi. Slayed in Iceland, the investigation's final report, exposed the links between Hvalur—Iceland's sole fin whaling company—and some of the country's largest companies, including HB Grandi. (At the time, HB Grandi was financially intertwined with Hvalur and chaired by Hvalur CEO Kristján Loftsson.) In the following years, as Kate spearheaded a "Don't Buy from Icelandic Whalers" coalition campaign aimed at commercial seafood buyers, Hvalur and Loftsson gave up their financial and governing interests in HB Grandi. 
 "How does she do it?" says Jessica Dickens, president of CSI, where Kate still serves on the board. "She must stay up all night scouring news outlets and websites in all different languages because in each meeting she could talk globally about what was happening to whales all around the world." But Kate is not all work. Along the way, she carved out the time to raise a daughter and three stepsons, and during her down time enjoys watching Nordic-language detective shows and playing the bodhrán, a traditional Irish drum.
In 2017, Kate helped found Make Stewardship Count, an international coalition of more than 90 nongovernmental organizations working to improve the Marine Stewardship Council's sustainable seafood certification program, in particular as it relates to bycatch and shark finning. Currently, she is working to encourage federal regulators, lawmakers, and industry leaders to expand mandatory vessel speed restrictions and transition to ropeless fishing gear to protect the critically endangered North Atlantic right whale.
A natural optimist, Kate focuses on progress made. Reflecting on a time when 100,000 dolphins were killed each year in eastern Pacific tuna nets, she notes that the number has since plummeted to below 1,000 ("still 1,000 too many," she says). And today, only three commercial whaling nations remain—Norway, Japan, and Iceland—the last of which suspended this year's fin whaling season through August 31 over welfare concerns, and has not engaged in minke whaling since 2021. 
After four decades, Kate is perfectly willing to pass the baton to the next generation of marine mammal advocates. "Things need to evolve and adapt," she reasons. "It works for ecosystems." She won't, however, walk away from the cause. "We're just part of this great whole and that's why we need to protect these animals, respect their welfare, and conserve their habitat," she says. "They enrich our lives in so many ways."