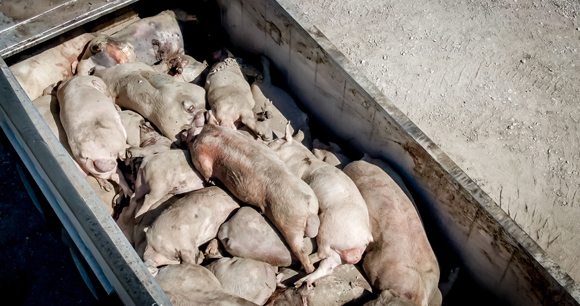 Photo by Direct Action Everywhere
Washington, DC—COVID-19 has shut down, at least temporarily, dozens of pig, chicken, and turkey slaughter plants in the United States, leaving millions of farm animals with nowhere to go. Some producers have arranged to keep animals on the farm until plants reopen, while others have chosen to kill healthy animals and bury or compost their bodies.
The term euthanasia, which literally means "a good death," has been inappropriately used to characterize the killing by inhumane methods of healthy farm animals due to slaughter and processing capacity problems. The American Veterinary Medical Association (AVMA) uses the term "depopulation" to describe the rapid destruction of a population of animals in response to urgent circumstances. One method that has been used to kill large numbers of farm animals is "ventilation shutdown," which involves turning off the airflow in a barn and ratcheting up the heat to as high as 120 degrees, leaving trapped birds and pigs to die from a combination of heat stress and suffocation.
Dena Jones, director of the farm animal program at the Animal Welfare Institute (AWI), issued the following statement regarding the use of ventilation shutdown to kill farm animals due to limited slaughter capacity during the pandemic:
The ventilation shutdown process can take hours and likely results in severe animal suffering. Intentionally inflicting death in a manner that causes elevated and prolonged distress is unacceptable and does not qualify as "euthanasia." It is particularly insupportable for the AVMA—a professional scientific body representing veterinarians sworn to protect animals—to allow its guidelines to be used in such an inappropriate manner.

When the AVMA proposed allowing the use of ventilation shutdown to kill animals "in constrained circumstances," AWI warned that the AVMA guidelines might not prevent producers from using this extreme method in situations that instead call for euthanasia. In fact, that is exactly what is happening now; healthy animals posing no public health risk are being killed by a grossly inhumane method to aid the meatpacking industry.

Ventilation shutdown was last used in 2015 in response to an outbreak of highly pathogenic bird flu, which killed nearly 50 million chickens and turkeys in the United States. During the current pandemic, however, animals are not suffering from disease, nor are they at risk of transmitting disease to other animals or to humans. Instead, they are being destroyed because meat companies have failed to properly protect their slaughterhouse workers.

The modern animal agriculture industry in the United States routinely puts profits over the well-being of both animals and workers. It runs slaughter lines as fast as possible, provides animals the lowest level of care required, and offers minimal health and safety protections to its workers. There is no margin for error in this intensive, high-production system. As a result, the wave of plant closures has left millions of animals in limbo. Nevertheless, the current situation does not justify subjecting any animal to a cruel death.
Media Contact Information