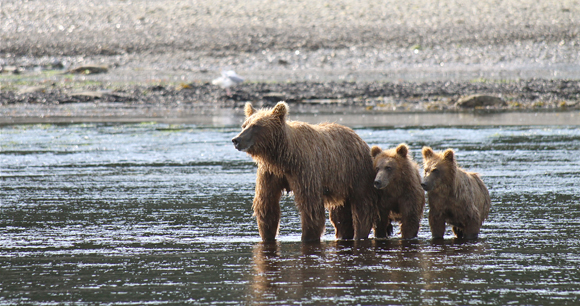 Photo by Martha de Jong-Lantink
Washington, DC—The Animal Welfare Institute (AWI) condemns today's decision by the National Park Service (NPS) to reverse a 2015 rule prohibiting unethical and unsporting methods for killing wildlife on the 10 national preserves managed by the NPS in Alaska.
The decision reverses a ban on cruel wildlife killing methods, including hunting wildlife from aircraft, off-road vehicles, motorboats, motor vehicles, or snow machines; killing swimming caribou; killing brown and black bears over bait; using dogs to chase black bears; and killing bear cubs, female bears with cubs, wolves and coyotes from May 1 through August 9, when they are raising their young.
When the NPS rule becomes final on July 9, hunters in Alaska will be able to kill wildlife on national preserves using these unacceptable, antiquated methods.
AWI, which submitted extensive comments to the NPS in 2018 opposing the proposed reversal of these hunting restrictions, is appalled that the Trump administration is turning its back on this scientifically and ethically sound rule and failing to protect wildlife on Alaska's national preserves from such brutal killing practices. Previously, the NPS did not ban the hunting of any species. Rather, the agency prohibited the use of these unsporting killing methods, many of which are banned in most states. The NPS is now reversing its previous rule and wrongly contending that this action was required to comply with the provisions of the Alaska National Interest Lands Conservation Act.
"The decision is meant to appeal only to a tiny minority of people who want to kill wild animals in the most cruel and unsporting ways," said Cathy Liss, president of AWI. "Alaska's national preserves are held in trust and should be treated accordingly."
###