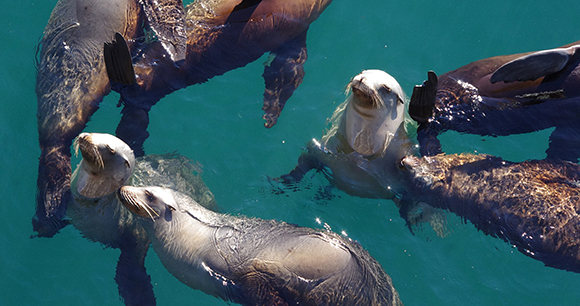 Photo by David Merrett
Washington, DC—The US Senate voted by unanimous consent last night to pass the Endangered Salmon Predation Prevention Act (S. 3119), legislation that amends the Marine Mammal Protection Act (MMPA) in order to allow for the lethal removal of nearly 1,000 sea lions a year.
In June, the US House of Representatives passed similar legislation, H.R. 2083, the Endangered Salmon and Fisheries Predation Prevention Act. Members of both chambers will now have to reconcile the differences between the two bills. In response to this week's action in the Senate, representatives of the Animal Welfare Institute (AWI) issued the following statements:
"It is unconscionable that the Senate would vote unanimously to amend the MMPA in a way that weakens protections for marine mammals," said Nancy Blaney, director of government affairs for AWI. "The MMPA is supported by eight in 10 Americans and amending it to allow a sea lion cull undercuts its core protective nature. Just as the Senate voted to pass this legislation out of committee without any debate or testimony from outside experts, the passage of this bill by the entire chamber lacked any discussion or debate on the floor. This is no way to pass legislation."
"S. 3119 is based on the mistaken notion that sea lions in the Columbia River basin have so altered the ecosystem that wild salmon are now listed as endangered under the Endangered Species Act, said Dr. Naomi Rose, marine mammal scientist for AWI. "This legislation fails to account for human activities that have led to these declines."
"Endangered salmon are affected by multiple threats. Placing the blame for their decline solely on sea lions is overly simplistic and misguided and will do nothing to recover the salmon, because government officials refuse to take necessary actions, such as dam removal," continued Rose.
Media Contact Information