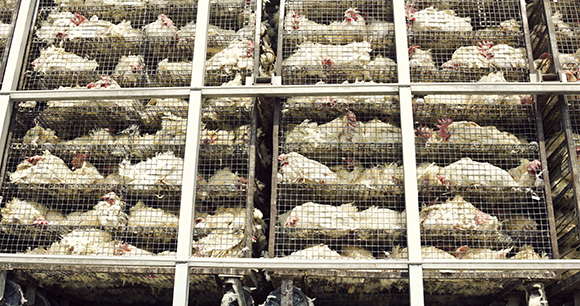 Photo by Ben Krut
Washington, DC—In a letter sent today to the USDA's Food Safety and Inspection Service, the Animal Welfare Institute (AWI) urged the agency to protect poultry from mistreatment, citing more than 50 recent situations in which birds were knowingly neglected or abandoned during transport or at the slaughterhouse. Many of these incidents appear to violate state animal cruelty laws.
The incidents, which occurred between January 2016 and May 2018, were documented in reports obtained by AWI through the Freedom of Information Act. Examples of mistreatment included birds loaded in high temperatures without the use of fans or misters, birds transported in low temperatures without covers on the trucks, birds held at the slaughterhouse without protection from extreme heat or cold, and birds held for slaughter for extended periods without food, water and adequate shelter.
"In all of these instances, large numbers of birds suffered, and, in many cases, hundreds or thousands of them died," said Dena Jones, AWI's farm animal program director. "These types of occurrences are nothing new in the poultry industry, but their prevalence seems to have increased significantly in recent years."
In May 2016, AWI alerted the USDA to concerns over intentional abandonment of birds—often during extreme weather—in the holding areas of poultry slaughter plants. AWI provided six examples, occurring between 2013 and 2015, in which large numbers of birds died while being held for extended periods. The USDA took no action at the time.
A USDA directive on verifying poultry good commercial practices acknowledges that specific situations may exist in which the establishment's mistreatment of birds requires that state officials be notified. In these cases, inspection personnel are to prepare an official letter of concern to send to the plant's management and appropriate state officials.
However, the USDA has issued only one such letter for bird mistreatment since December 2014, according to records received by AWI. At the same time, the Food Safety and Inspection Service has cited a number of plants multiple times for egregious mistreatment of birds. The plants named include Pilgrim's Pride in Guntersville, AL, Mount Pleasant, TX, and Natchitoches, LA; Norbest LLC in Moroni, UT; Simmons Prepared Foods in Decatur, AR; Butterfield Foods Company in Butterfield, MN; and Southern Hens in Moselle, MS.
AWI is asking the USDA to prevent the needless suffering of animals destined for slaughter, and to issue letters of concern recommending that state officials investigate the incidents in question for possible violations of state animal cruelty statutes.
"The USDA is well aware of these situations, but takes no action to prevent them," said Jones. "It refuses to revise its own regulations to address the mistreatment of birds, and it has failed to refer egregious incidents to state officials so that they may take action."
Media Contact Information