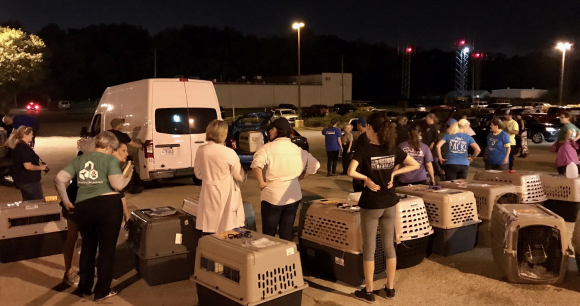 Norfolk, VA— Three hundred and fifty cats and dogs from the US Virgin Islands, recently decimated by Hurricane Irma, were evacuated by plane early this morning. The Amerijet cargo plane—arranged by Virginia Beach's Island Dog Rescue with significant funding from the Animal Welfare Institute (AWI)—transported the animals from shelters run by Humane Society of St Thomas and St. Croix Animal Welfare Center to Norfolk International Airport.
Four staff members from AWI's Washington, DC, office were among the many volunteers who came from near and far to help greet, walk, and transport the animals to Island Dog Rescue's facilities upon the plane's arrival. The animals, some of whom were surrendered by owners in the midst of the hurricane and some of whom were in the shelters prior to the storm, will be sent to rescue organizations across the country to be adopted.
"We are honored to have played a part in making this happen," said Nadia Adawi, AWI executive director and general counsel, who traveled to Norfolk to volunteer. "We had been alerted to the deteriorating conditions on the islands by residents, and, with another hurricane due to hit, we knew there was a short window to act. Island Dog Rescue truly pulled off the impossible to get these pets out of harm's way."
For more information or photographs of the rescue mission, please contact Amey Owen, AWI Public Relations Coordinator, at amey@awionline.org or (202) 446-2128. 
Media Contact Information