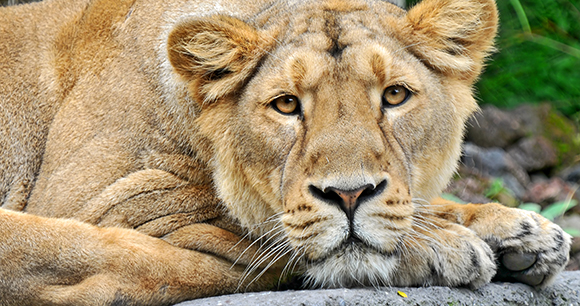 Photo by Emmanuel Keller
Washington, DC—Fires, floods and earthquakes can cause intense suffering and death to the millions of animals trapped in commercial and research facilities. Today, Representatives Dina Titus (D-NV) and Peter King (R-NY) introduced the "Providing Responsible Emergency Plans for Animals at Risk of Emerging Disasters (PREPARED) Act of 2019," which would require institutions where animals are housed to strategically plan for emergencies. The bill is endorsed by the Animal Welfare Institute (AWI) and other national animal welfare organizations.
This legislation, first introduced in 2014 as the "Animal Emergency Planning Act," builds on the bipartisan "Pets Evacuation and Transportation Standards (PETS) Act" of 2006, which requires state and local emergency preparedness plans to incorporate accommodations for companion animals and service animals. While this law marked a crucial step forward, it did not address commercially owned animals. The PREPARED Act would cover substantially more animals under human care.
"The lives of animals are too precious to leave to chance," Titus said. "This bipartisan bill will ensure that zoos, commercial breeders, research facilities, and the like are prepared to keep their animals safe when disaster strikes. Sadly, we've learned that if these entities do not have a plan in place when an emergency hits, it is already too late. I'm grateful for the support of Representative King and the many animal advocacy organizations that are helping advance this important legislation."
"For those who are responsible for the care and well-being of animals, it is imperative that they have an emergency plan in place when a disaster strikes," said King. "I am proud to work with Rep. Titus on this legislation to ensure the safety of animals with a completely reasonable and simple plan."
Specifically, the PREPARED Act mandates that entities regulated under the federal Animal Welfare Act, such as commercial animal dealers, exhibitors and research facilities, have contingency plans in place to safely evacuate and care for animals in an emergency or disaster situation. These plans also would include provisions for humane handling, treatment and transportation. Under the proposed legislation, covered entities would be required to submit their emergency plans to the U.S. Department of Agriculture (USDA) each year, and to train all employees in emergency procedures.
"Labs, zoos and other USDA-regulated facilities have an obligation to protect animals in captivity from devastating natural and man-made disasters," said Cathy Liss, president of AWI. "These animals are at the mercy of their handlers because they have no way to escape. The PREPARED Act would ensure that no USDA-regulated facility is ever caught unprepared in a crisis — and that no animal gets left behind."
Media Contact Information