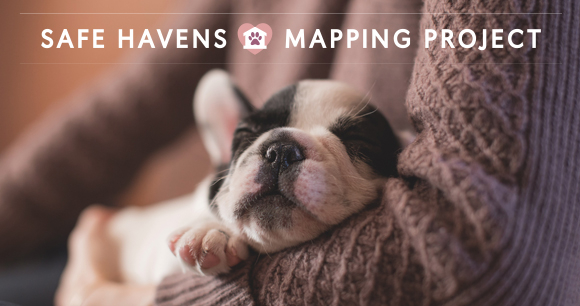 Photo by Freestocks
Washington, DC—The Animal Welfare Institute (AWI) unveiled today a comprehensive website that aims to help domestic violence survivors and their pets escape abusive situations. Launched during National Domestic Violence Awareness Month, the newly revamped Safe Havens Mapping Project is a directory of more than 1,200 sheltering services in all 50 states and the District of Columbia that will assist individuals experiencing domestic violence in placing their companion animals out of harm's way so that they may seek safety for themselves.
The listings, which are searchable by zip code and will be updated regularly, feature organizations that either provide sheltering services for the animals of domestic violence victims, have a relationship with an entity that does, or provide referrals to such facilities. They include humane societies, veterinary offices, foster homes, and domestic violence shelters that house humans and pets together. Pets' exact locations will be kept confidential to protect them and their family members.
The need for safe havens is clear. In multiple studies, roughly half to three-quarters of battered women report that their pets had been threatened, harmed, and/or killed by their partners. Other research has shown that as many as 48 percent of victims delay leaving a dangerous situation out of concern for their pet's safety.
"No domestic violence victim should be forced to remain in a terrifying situation or abandon a beloved pet because there is nowhere else to turn," said AWI President Cathy Liss. "This website not only offers the largest directory of safe havens nationwide, it is packed with useful resources for families in crisis, domestic violence shelter personnel, law enforcement, and others."
AWI established the first-ever Safe Havens for Pets database in 2011, when there were only partial listings available online. Since that time, the directory has been accessed tens of thousands of times each year; it is also listed on the National Domestic Violence Hotline's website. About 70 percent of those who accessed the database last year through the hotline's website identified as female, mirroring national statistics on the percentages of female and male domestic violence victims that seek help.
Other tools available on the new AWI website include links to information on safety planning for pets of domestic violence victims, questions to ask about these pets during intake, and a map of states that allow companion animals to be included in temporary restraining orders.
With improved search features and functionality, the website is expected to build on recent efforts in Congress to better meet the housing needs of survivors with pets. The Pet and Women Safety (PAWS) Act, which passed as part of the 2018 Farm Bill, established a grant program for entities that provide shelter and housing assistance to this population. The legislation also takes the important step of including pets, horses, service animals, and emotional support animals in federal law pertaining to interstate stalking, protection order violations, and restitution.
Media Contact Information