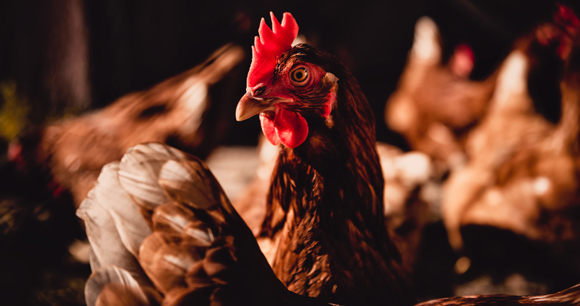 photo by Kerkez
Washington, DC—A massive fire at Red Bird Egg Farm in Pilesgrove, NJ, Monday night killed an estimated 280,000 egg-laying hens, marking one of the most devastating barn fires in the United States this year.
"While we are relieved that no humans were injured, the horrible manner in which these animals died is a real tragedy," said Dena Jones, farm animal program director for the Animal Welfare Institute (AWI). "With virtually no legal protections in municipal codes or state laws, the onus is on the industry to protect animals from barn fires. However, the industry has yet to establish guidelines for fire prevention and suppression within animal housing facilities, leaving animals confined — often by the tens or even hundreds of thousands—at great risk."
The Red Bird Egg Farm fire is New Jersey's most devastating barn fire this year and among the four deadliest in the nation. In January, a barn fire in Otsego Township, Michigan, killed an estimated 300,000 hens. In February, a fire in Bloomfield, Nebraska, killed 400,000 chickens. And in April, at least 280,000 hens were reported killed in a Stanislaus County, California, fire. In the Red Bird incident, an estimated 200,000 birds perished in the fire itself, while another 80,000 suffocated in a neighboring building due to a fire-related power outage that shut down the ventilation system.
In all, more than 1.3 million farm animals have died in potentially preventable barn fires across the United States this year. Of this total, 99 percent of the animals were birds, mainly egg-laying hens. According to media reports analyzed by AWI, there has been a significant increase in large barn fires since 2017, claiming the lives of more than 3.1 million egg-laying hens.
AWI and its members recently sent more than 5,000 letters to the US Poultry & Egg Association, along with a petition signed by 10,000 consumers nationwide, calling on the organization to work with its members and industry partners to immediately address this issue and implement fire prevention strategies. Recommendations include installing sprinkler systems and drafting disaster/emergency plans. So far, AWI has received no direct response from the association.
This week's tragic event further highlights an urgent need for change. We hope that before millions more animals are needlessly killed in this horrific manner, the industry will make preventing barn fires a priority and work with all stakeholders to put forth meaningful solutions.
Media Contact Information