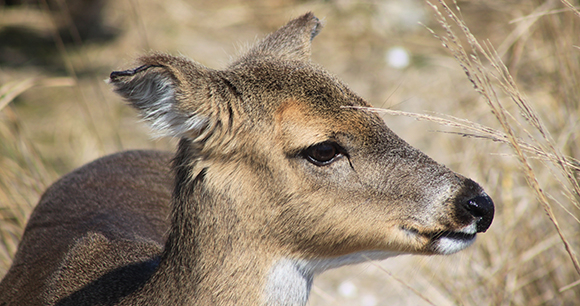 Photo from Flickr by Rich Schieren
Temporary Restraining Order Filed After Park Service Violates Agreement
Central Islip, NY—The Animal Welfare Institute (AWI) and Wildlife Preserves, Inc. (WPI) filed for a temporary restraining order and preliminary injunction Friday against Kelly Fellner, acting superintendent of the Fire Island National Seashore (FINS), and the National Park Service (NPS) to halt a planned deer kill this month, which violates an existing agreement between the wildlife conservation groups and park officials.
AWI and WPI initially sued the NPS and FINS in November of 2017, alleging that their deer management plan, which affects approximately 500 deer, violates the National Environmental Policy Act by failing to take a "hard look" at reasonable alternatives, and that portions of the plan violate deed restrictions on land granted by WPI to the NPS. Despite an overwhelming number of public comments opposed to lethal control, the NPS and FINS argued that it was necessary because of alleged deer impacts on vegetation and reported deer-human conflicts. After the lawsuit was filed in the US District Court for the Eastern District of New York, the parties entered into an agreement that the NPS would not kill deer for the duration of the litigation.
On February 8, however, the defendants informed the plaintiffs and the court via letter that the NPS intended to violate that agreement by implementing various aspects of the deer management plan, which could result in the killing of deer as early as February 25, 2019.
On Friday, the plaintiffs asked the court for emergency enforcement of the parties' agreement. The NPS is expected to respond to the motion by February 20.
"The NPS entered into a legally binding agreement, and the agency is required to honor its obligations, not brush them aside when those obligations are no longer convenient," said Johanna Hamburger, wildlife attorney for AWI. "We are also alarmed that we only learned of this plan by coincidence."
Last month, a concerned citizen contacted AWI after hearing rumors of the NPS's intent to kill deer. Additional details came out in an article published last month in the Fire Island News and the plan was later confirmed publicly in an NPS press release issued on February 11, 2019. The NPS reported that it will begin killing deer on FINS' 613-acre William Floyd Estate, located on the national seashore grounds, as early as February 20, 2019. Personnel from the USDA's Wildlife Services program will conduct the kill, which could continue through March 31 and possibly resume next winter to achieve a deer density of approximately 20 to 25 per square mile.
"Lethal deer control at FINS, including on the William Floyd Estate, is entirely unnecessary, as there are effective and humane nonlethal alternatives to control and manage the deer population," Anita Shotwell, managing trustee of Wildlife Preserves, Inc. said. "Indeed, a deer immunocontraceptive program at FINS from 1993 through 2009 was successful in humanely reducing deer numbers in some areas of the national seashore by 50 percent. If reimplemented, it has the potential for even larger reductions. It is crucial that this program be reinstated to replace an archaic and ultimately ineffective lethal plan."
Media Contact Information
The Animal Welfare Institute is a nonprofit charitable organization founded in 1951 and dedicated to reducing animal suffering caused by people. AWI engages policymakers, scientists, industry, and the public to achieve better treatment of animals everywhere—in the laboratory, on the farm, in commerce, at home, and in the wild. Follow us on Facebook, Twitter and Instagram for updates and other important animal protection updates.
Wildlife Preserves, Inc. is a private, nonprofit land conservation corporation dedicated to the preservation of natural areas, open space, wildlife, and wildlife habitats for conservation, education, and research. Wildlife Preserves owns and manages approximately 6,000 acres of land in the State of New Jersey in the counties of Atlantic, Cumberland, Essex, and Morris. Wildlife Preserves also owns land in Westchester County, New York. For more information, visit http://wildlifepreserves.org/.