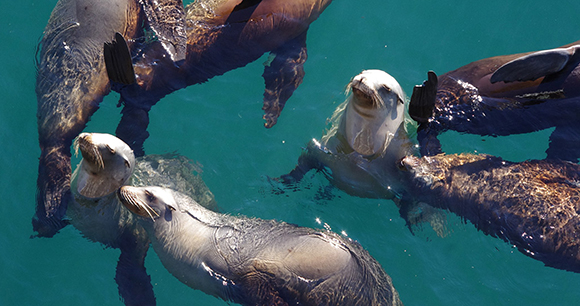 Photo by David Merrett
Washington, DC—In an ill-conceived attempt to save endangered salmon, the National Marine Fisheries Service (NMFS) on Friday issued a permit for wildlife managers and local tribes to kill as many as 540 California sea lions and 176 Steller sea lions in the Columbia River basin over the next five years.
The permit spans three states—Washington, Idaho, and Oregon—and significantly expands the area, number, and identity of sea lions targeted compared to previous lethal control efforts. Previously, targeted individuals had to be known predators of salmon. Now, any sea lion found in the river basin is fair game. For the first time, Steller sea lions—delisted under the Endangered Species Act only seven years ago—will be killed in a coordinated effort as early as this fall, along with California sea lions.
"The complex issues within the Pacific Northwest region—including the plight of critically endangered Southern Resident orcas, who rely on a dwindling population of salmon as their food source—won't be solved by scapegoating sea lions," said Dr. Naomi Rose, marine mammal scientist for the Animal Welfare Institute (AWI). "This killing program is NOT a solution; simply put, it is an ineffective Band-Aid."
This permit follows the controversial passage in 2018 of the Endangered Salmon Predation Prevention Act, which AWI actively opposed. This law amended the Marine Mammal Protection Act (MMPA) to allow for the indiscriminate killing of nearly 1,000 sea lions each year along the Columbia River basin and its tributaries. The legislation did not account for human-caused threats to endangered salmon runs, such as habitat loss resulting from dams and urban development.
Despite nearly 22,000 public comments opposed to the sea lion kill program, a federal task force overwhelmingly recommended approval in May.
NMFS issued the permit just a few weeks after federal agencies released a final environmental impact statement for the Columbia River System. Their recommendation was to leave the dams intact, even though they have blocked more than 55 percent of salmon and steelhead spawning habitat and are a major obstacle to the fish's overall survival.
AWI is disturbed by NMFS's decision to ignore sound science and the larger issues facing endangered salmon and steelhead. We will continue to fight for real solutions to this multifaceted problem, and advocate for the welfare of sea lions as protected under the MMPA.
Media Contact Information