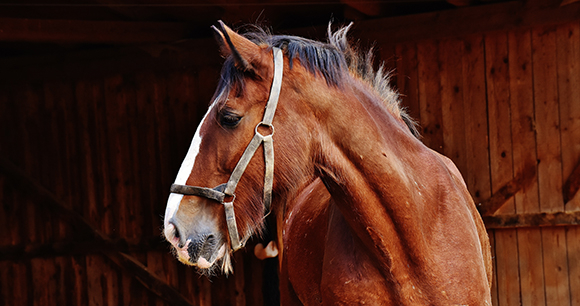 Washington, DC—The Animal Welfare Institute (AWI) applauds the US House of Representatives for passing the Horse Transportation Safety Act (HTSA) today as part of a massive infrastructure bill. The HTSA would ban the use of unsafe double-deck trailers to haul horses in interstate commerce.
The $715 billion INVEST in America Act (H.R. 3684), approved by the House by a vote of 221-201, sets federal transportation policies and reauthorizes a wide array of programs over the next five years. Included in the bill is the HTSA (H.R. 921), which aims to ensure that horses are not subjected to dangerous and inhumane conditions during transport. AWI has long spearheaded the passage of the HTSA to bar transporting horses in vehicles that endanger both animals and motorists. The bill, led by Representatives Steve Cohen (D-TN), Dina Titus (D-NV), and Brian Fitzpatrick (R-PA), amassed 122 cosponsors.
The impetus for the HTSA was a horrific accident several years ago in which a double-deck trailer carrying 59 Belgian draft horses overturned in Wadsworth, Illinois, killing 19 horses. The tragedy spotlighted the reckless practice of packing horses into trailers designed for much shorter and stouter animals, such as cattle and pigs.
"Cramming horses into double-deck trailers and hauling them over a long distance is dangerous and inhumane," said Joanna Grossman, PhD, equine program manager and senior advisor at AWI. "Although a few states have already banned the practice, we commend the House for recognizing that a federal prohibition is essential to protect both horses and motorists."
The American Veterinary Medical Association recommends at least a 7- or 8-foot clearance for horses; double-deck trailers usually have a ceiling clearance of 4 feet 7 inches to 5 feet 5 inches, which typically does not allow horses to stand comfortably or even fully extend their heads and necks inside. Moreover, because horses cannot maintain proper balance, they are at higher risk of injury from falling. Horses can also sustain injuries while being loaded onto the steep ramp of a double-deck trailer.
The U.S. Department of Agriculture banned the use of double-deck trailers to transport equines to slaughter in 2011, citing concerns that such vehicles (containing two or more levels stacked on top of one another) could prove "extremely top-heavy and prone to tipping."
The HTSA would finally close the loophole that allows other horses to travel across state lines in double-deck trailers.
"Passage of the Horse Transportation Safety Act is a victory for the humane treatment of these elegant animals and for commonsense highway safety," Cohen said. "Horses deserve to be transported in as humane a manner as possible on our highways. Double-deck trailers do not provide adequate headroom for adult horses, and accidents involving double-deck trailers are an unnecessary and cruel reminder that the practice is also potentially dangerous to all on the roadways."
"It's past time for Congress to close the loophole that encourages horses to be transported in a harmful way," Titus added. "I'm proud we were able to advance our bill to protect these beautiful animals."
In another positive development for horses today, the House passed the Carter-Fitzpatrick Amendment to the INVEST in America Act, which would ban the transport of equines across state lines for the purpose of slaughter, effectively ending the slaughter of American horses for human consumption if enacted into law. American horses have not been slaughtered for human consumption in the United States since 2007. However, tens of thousands are still transported each year to slaughterhouses in Canada and Mexico.
The House also passed an amendment from Rep. Don Beyer (D-VA) to create a National Wildlife Corridors System to connect spatially separated habitats, which is critical to sustaining biodiversity and complex ecosystems and preventing collisions with vehicles when wild animals attempt to cross roadways.
Congress is aiming to pass the infrastructure bill before a Sept. 30 reauthorization deadline.
Media Contact Information