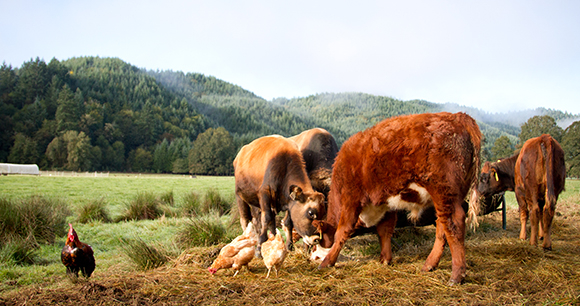 Photo by Mike Suarez
Washington DC—The Animal Welfare Institute (AWI) commends the House-Senate conference committee for rejecting provisions that would have been harmful to animals in the final version of the Farm Bill, which was released last night, while retaining measures that will benefit animals.
"AWI thanks the Farm Bill conference committee for working diligently to produce a bill free of riders that would have seriously undermined animal welfare," said AWI President Cathy Liss. "We consistently sought a bipartisan bill that would provide better protections for animals and we're happy with the results."
"AWI was actively engaged throughout the negotiation process, communicating our priorities directly to conference members and their staff. We're thrilled to see that the final product will benefit animals," said Nancy Blaney, director of government affairs at AWI.
The following provisions of the Farm Bill conference report (H.R. 2, the Agriculture Improvement Act of 2018) will significantly benefit both animals and public safety:
Section 12502 incorporates the Pet and Women Safety (PAWS) Act. The correlation between domestic violence and animal abuse is well documented. Few resources are currently available to assist these survivors, leaving many trapped in the cycle of violence. With this provision, more resources will be made available to meet the housing needs of survivors with pets, while law enforcement will be equipped with additional tools to protect them from their abusers.
Section 12515 prohibits the slaughter, as well as the import/export, of dogs and cats for human consumption. While not common in the United States, these practices are still legal in 44 states. Ensuring that they are illegal throughout the country is integral to ending this horrific trade worldwide.
Section 12616 extends the Animal Welfare Act prohibition on animal fighting to US territories. Animal fighting is illegal in all 50 states, as well as the District of Columbia. However, cockfighting remains prevalent—and legal—in US territories. Section 12616 closes this loophole and outlaws this cruel activity regardless of where it occurs in the country.
Members of the conference committee also took a principled stance by removing controversial sections of the House Farm Bill.
"We're pleased that, as in previous Farm Bill conferences, committee members this year rejected the disastrous King amendment," said Liss. "The King amendment would have undone progress made at the state level toward more humane treatment of livestock and companion animals."
Sponsored by Rep. Steve King (R-IA), the amendment would have denied states the authority to set animal welfare standards within their own borders. The amendment was poised to interfere with state restrictions on gestation crates for pigs, tail-docking of cattle, and horse slaughter, along with state bans on the sale of foie gras, eggs from hens kept in extremely small battery cages, and pets from puppy mills.
"The King amendment would have had disastrous effects not only on state animal welfare legislation but also on food safety, worker protections, environmental quality and consumer safeguards," said Blaney. "We're thrilled to see the King amendment rejected by committee members."
Other rejected language from the House version of the Farm Bill would have absolved industry from taking responsibility for harming America's wildlife, while implementing policies that are bad for farmers. Certain provisions would have reduced oversight for pesticide registration, posing a particular danger to pollinators such as bees, and weakened other key provisions of the Endangered Species Act designed to protect vulnerable species.
Both the House of Representatives and Senate must now vote to pass the conference committee's Farm Bill and send it on to the president for his signature.
Media Contact Information